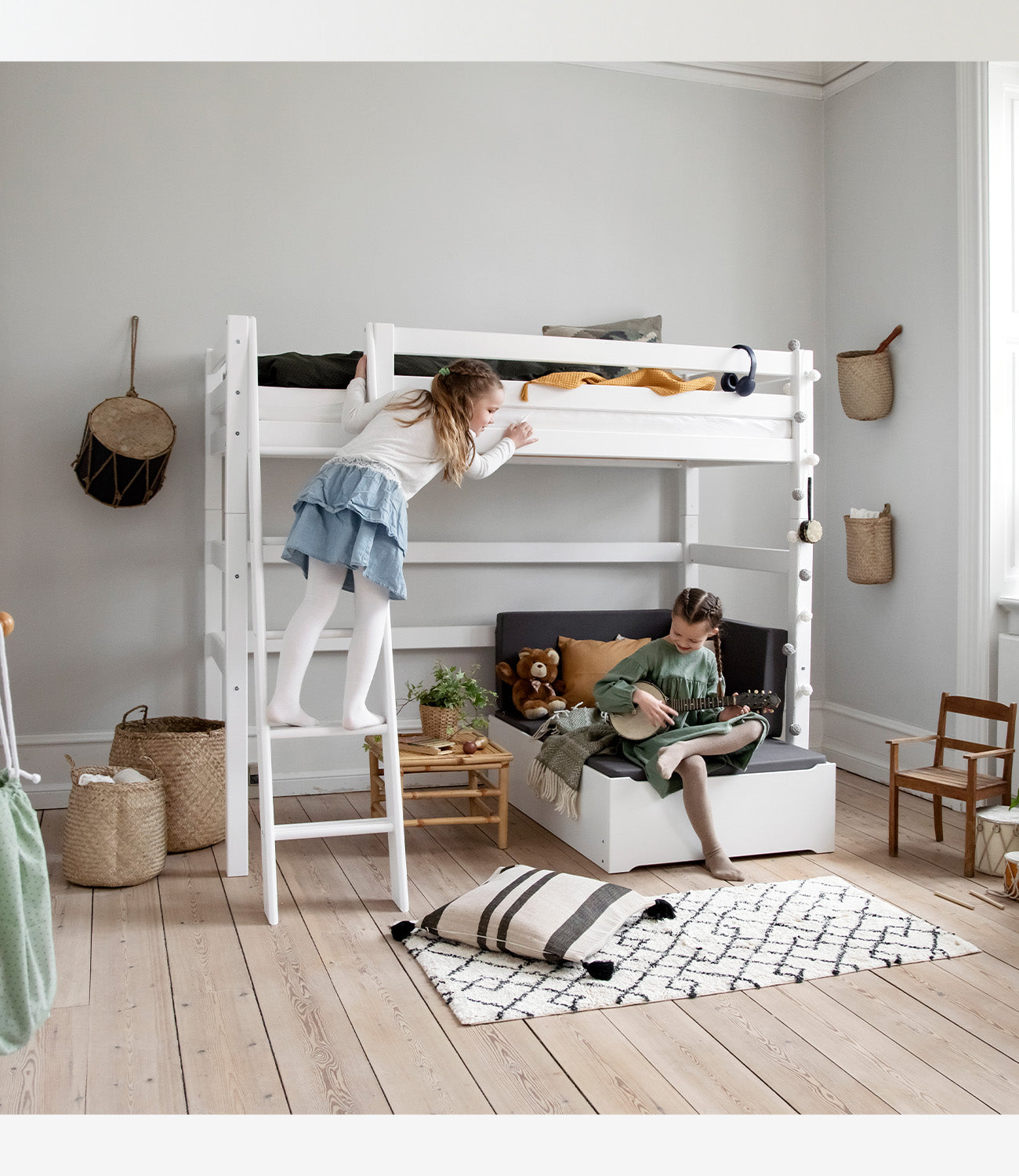 ECO Luxury
Fully modular and Ecolabelled Bed Series.
ECO Luxury is the luxury bed collection with higher comfort, even better security, better durability, and an almost infinite selection of beds and accessories.
ECO Luxury has a lifetime warranty on manufacturing errors and a 5-year availability guarantee on all beds and accessories. The collection is for anyone who is looking for top quality and who would like to be able to modify the bed as their child grows.
All beds in the ECO Luxury series carry the Nordic Swan Ecolabel. You can read more about the collection, safety, and the Nordic Swan Ecolabel on this page.
Filters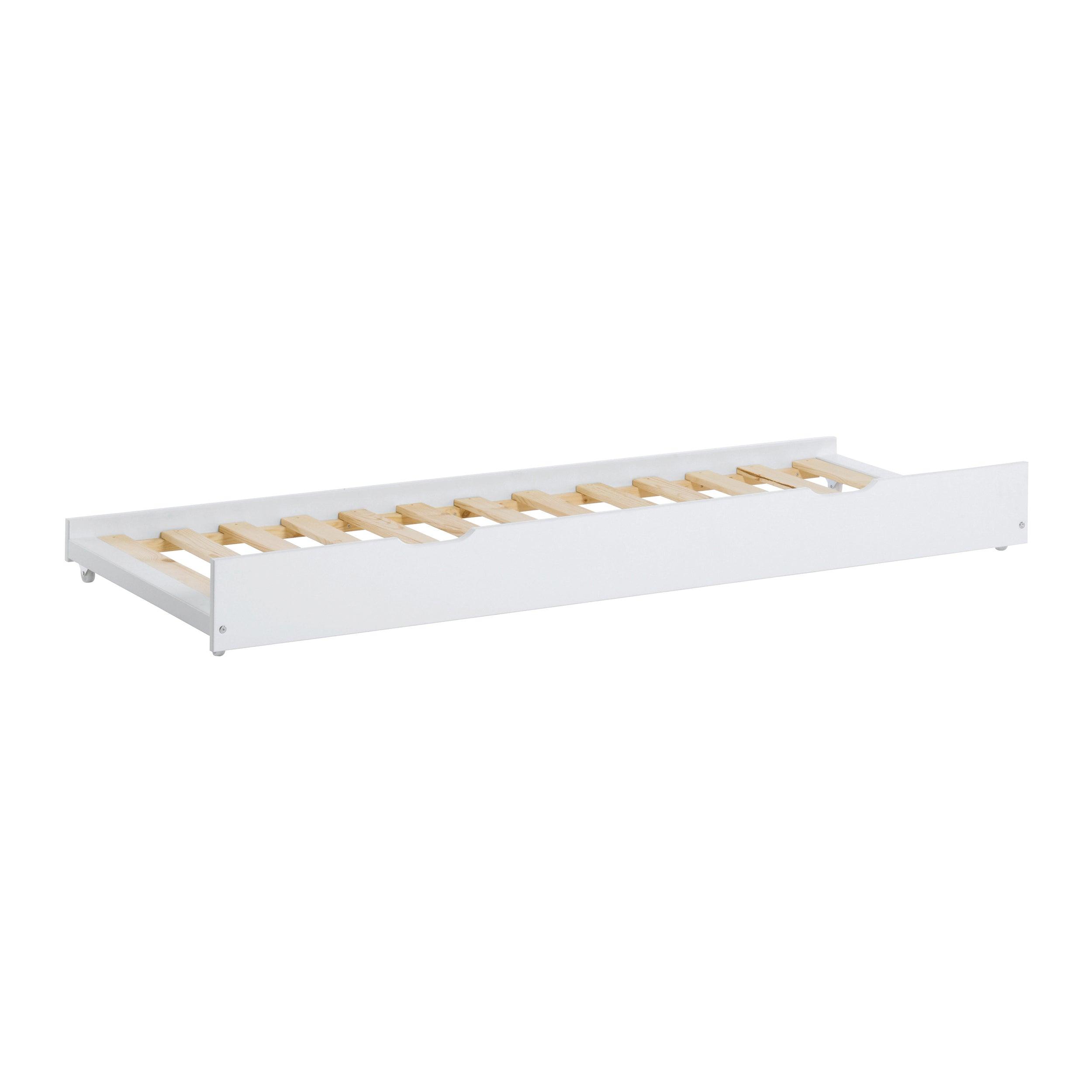 A flexible bed system
ECO Luxury is an extremely flexible and durable bed system. All designs take their point of departure in the junior bed and add modules and accessories to build the bed. This gives you the freedom to select and reject, change your mind and rebuild as often as you please.
The strong focus on security, comfort, and quality is particularly obvious in the selection of ECO Luxury quality accessories. You can purchase a thicker mattress, our slatted bed base in molded wood, a plethora of security rails as well as a slanted ladder with profiles on the steps for a more secure and easier climb. The flexibility in the collection and the durability of the beds enable ECO Luxury to serve as a "hand me down" to younger siblings whilst maintaining that special feeling of getting a new and personalized bed.
And the ECO Luxury bed series comes with a lifetime guarantee, which you can read more about here.
In addition, the series is eco-labeled, so it meets the strict requirements for children's beds. And then the beds are made from (FSC-C109484) certified wood, which comes from forests that are sustainably managed according to a set of strict principles. For example, no more forest may be cut down than is planted. All surfaces are treated exclusively with environmentally friendly, water-based lacquer.
The perfect mattress for the ECO Luxury beds
At Hoppekids, you can find different children's mattresses for your bed. You can get swan-label mattresses, which are also hypoallergenic, cold foam mattresses, and regular foam mattresses. 
When choosing a mattress for your ECO Luxury bed, the mattress mustn't be thicker than 12 cm so that they meet the safety standard, if the mattress is higher than 12 cm, the child will not have the same safety when they sleep in their bed. 
As you may have seen, we also have mattresses that are 9 cm thick and these mattresses can easily be used in an ECO Luxury bed, however, the 12 cm thick mattress provides more support, which can be good for children who are a little older. 
Not sure which mattress to choose for your ECO Luxury bed? Then take a look at our mattress guide, which makes it easy and clear for you to see the differences between the mattresses. 
Benefits of ECO Luxury beds
There are many advantages to an ECO Luxury children's bed, the beds have both:
Lifetime guarantee  
Higher bed sides - for increased safety 
Thicker posts for better stability.
The option of slanted ladders and handles - which make it easier for children to get into bed. 
A modular system - which has almost endless possibilities, to build the bed higher. 
The option of premium slats - which give a more flexible mattress 
The possibility of a thicker mattress - max 12 cm 
So if you are looking for a children's bed that will last for many years and that gives you many options to change the bed into another one - then an ECO Luxury bed is the one to choose.