Lifetime guarantee on the ECO Luxury bed series and the STOREY shelf
ECO Luxury is the luxury bed series from Hoppekids. In the series, you will find higher comfort, even better safety, longer durability, and an almost infinite range of models and accessories. The wide selection provides great flexibility for you, so you can find a children's bed that fits your child and your child's room perfectly. The wide range of accessories and the quality of the bed mean that it can be used throughout childhood or passed down to a younger sister or brother.
STOREY is the flexible shelving system from Hoppekids. The system is built in sections, so you can determine the length of your system, the accessories you want, and how it all fits together. The wide range of accessories for STOREY gives you great flexibility, allowing you to tailor the system to your home. This also means that STOREY can be a faithful companion through all stages of life.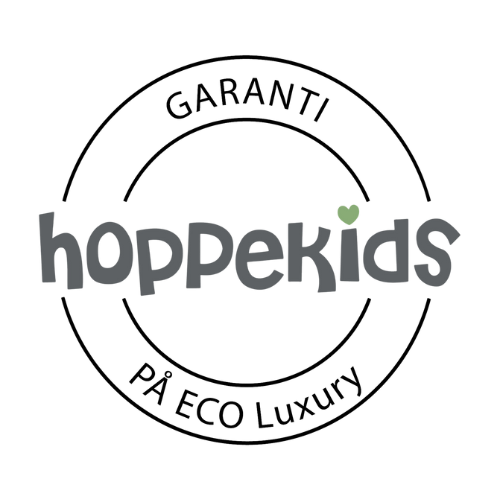 It's about carefulness and quality
Care and quality are of crucial importance to us at Hoppekids. Therefore, we are pleased to offer a unique lifetime guarantee on all beds in the ECO Luxury series, as well as all products in the STOREY shelf series. The lifetime guarantee is your assurance and guarantee that the product you purchase is made with great care and with safety and durability in mind.
About the lifetime guarantee
Your product must be registered with Hoppekids no later than three months after the date of purchase.
If the normal warranty is still valid, you should contact the store where you purchased the bed.
Terms for lifetime warranty on the ECO Luxury series and STOREY
Which products are covered by the warranty?
All products that are part of the ECO Luxury bed series or the STOREY series are covered by the warranty, including accessories such as shelves, slides, ladders, and bed rails. See all products covered by the warranty here. Textiles, mattresses - including the ECO Luxury mattress - and other products that are not part of the ECO Luxury bed series or the STOREY series are not covered by the warranty. The lifetime warranty applies to products purchased after May 1, 2017, and registered with us within three months of purchase. Remember to include a valid proof of purchase when registering for the lifetime warranty.
What does the lifetime warranty cover?
The lifetime guarantee covers manufacturing defects. The guarantee requires that the product has been assembled correctly according to the assembly instructions and that screws and similar items have been regularly tightened. The lifetime guarantee does not cover: errors and defects that have arisen due to incorrect use or normal wear and tear on the product, or changes in wood structure and surfaces, including knot extraction. The lifetime guarantee is personal and cannot be transferred and only applies to a new product purchased from a sales outlet authorized by Hoppekids.
How are the products registered?
To register your ECO Luxury or STOREY product, please send an email via the link below:
How to make use of the lifetime warranty
In order to make use of the lifetime guarantee, you need to send an email via the link below: