Bed package: Mid Sleeper Bed 70x160 with shelf and Children's table & chair set
---
SKU: PRE-A5-3+42-0712-WH-07M+99-4843-000+36-4528-82-070
With this bed package, you will receive the following products:
Hoppekids ECO Luxury Mid Sleeper Bed 70x160
ECO Luxury Nordic Swan ECO-labeled Mattress in size 70x160
Mads Table and 2 chairs in "Pale Rose" color
Hoppekids Shelf with Wheels, which fits under the bed
Bed
This mid sleeper bed offers a comfortable height for those not entirely comfortable with heights yet. There's space for play or storage under the bed, and it's not so high that it might feel unsafe for smaller children. Climbing up the ladder can help develop motor skills, and the view from the bed is usually a favorite among children.
All ladders from the ECO Luxury series have cutouts and deep steps, providing better foothold when climbing up the ladder. If you choose the slanted ladder, it will be less steep, making it easier to climb. It's also possible to add a handlebar for a little extra safety for the little ones.
The bed is certified with The Nordic Swan Ecolabel. The ecolabel is your guarantee that the product complies with all EU standards for children's furniture and has been tested accordingly. At the same time, the utmost care is taken for the environment both in the procurement of raw materials, during production, throughout the product's life, and when it needs to be disposed of. The surface is treated with water-based lacquer free of unnecessary chemicals and harmful substances.
The ladder can be mounted on either the right or left side of the bed.
Specifications:
Mattress size: 70x160 cm
Bed size, slanted ladder: L169 x H114 x D108 cm
Height under the bed: 72 cm
A Bed with a Lifetime Warranty
The ECO Luxury series comes with a lifetime guarantee, covering manufacturing defects. Read more about the lifetime guarantee on this page, where the bed also needs to be registered.
ECO Mattress
The mattress, certified with the Nordic Swan Ecolabel, in size 70x160x12 cm from Hoppekids is a hypoallergenic mattress for the children's bed, providing good support and a comfortable night's sleep.
The mattress core is made of Waterlily® foam. Waterlily® foam is a high-quality product that offers resilient, soft, and comfortable support, even better than cold foam. Waterlily is a durable material that considers safety, health, and environmental aspects throughout the product's lifespan. Waterlily retains its shape, providing long-lasting comfort properties. The mattress core is flame-retardant without the use of additives.
Ventilation holes throughout the mattress ensure optimal airflow for temperature and moisture regulation. The mattress has a soft and pressure-relieving top layer of Celsius viscoelastic foam that shapes itself according to the body for maximum support.
The mattress comes with a cover made of soft bamboo fibers on the outside with quilted thermould, which wicks away moisture and heat from the body.
Shelf on wheels
The room divider from Hoppekids is a practical shelf with four large compartments and wheels with a locking function. It provides great flexibility in the arrangement without compromising safety.
Specifications: W62.5 x H69 x D41.5 cm
Children's Set
The MADS children's set from Hoppekids is the perfect set for any children's room. The chairs have a comfortable height and fit the MADS children's table. Together, they form a nice little children's set that can be used for tea parties, drawing, building with blocks, and much more.
Specifications:
Table size: W50 x D50 x H47 cm
Chair size: W28 x D28 x H50 cm
More about the product
Product specifications for Bed package: Mid Sleeper Bed 70x160 with shelf and Children's table & chair set
Max. mattress height
12 cm
Hoppekids ECO Luxury
Fully modular and Nordic Swan ECO-labeled bed series.
ECO Luxury is the luxury bed series with higher comfort, even better safety, longer durability, and an almost infinite range of models and accessories.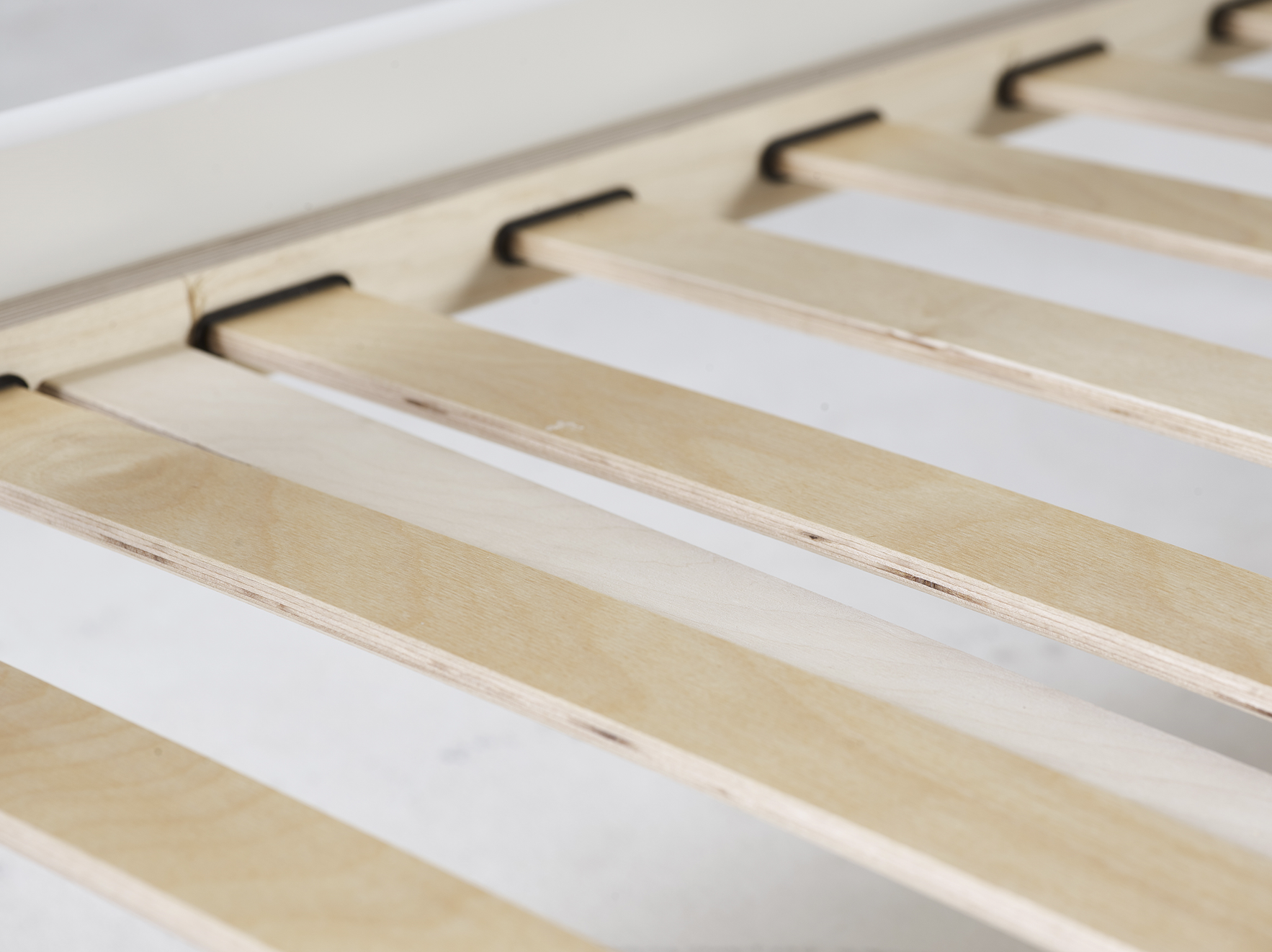 Flexible Slatted Base
With ECO Luxury, it is possible (for the size 90x200 cm) to upgrade from the classic slatted base to a form-fitted laminated slatted base. For increased comfort in your ECO Luxury bed.
Children's beds with the Nordic Swan Eco-label
The beds from the ECO Luxury series are Nordic Swan ECO-labeled. This is your guarantee that the product complies with applicable EU standards for children's furniture and has been tested accordingly. The Swan label also sets strict requirements for chemicals - benefiting both the environment and your child's health.
The Swan label constantly tightens the requirements for certification, ensuring that we as a company are constantly updated and follow the developments. Read more about the new 2021 requirements for furniture here.
What is the difference..?
What is the difference between "ECO Comfort", "ECO Dream", and "ECO Luxury"?
Here are the main differences between our 3 bed series:
Option for flexible slatted base
Modular
Partial / Depends on the model
The benefits of the ECO Luxury series
There are many advantages to an ECO Luxury children's bed, the beds have both:
Lifetime warranty on manufacturing defects and 5 years supplementary warranty
Modular system - (almost) endless possibilities with multiple bed types and more accessories
Higher bed rail for additional comfort and safety
Possibility for flexible slatted base in 90x200 cm
Stair steps have recessed steps for increased safety
So if you are looking for a children's bed with comfort and safety in focus, that can also grow with the child, then ECO Luxury is the right choice for you.
Mattress for ECO Luxury Beds
At Hoppekids, you can find different mattresses for your junior bed. You can get both Swan-labeled mattresses, which are also hypoallergenic, cold foam mattresses, and regular foam mattresses.
According to safety standards, the mattress for your ECO Luxury bed should be a maximum of 12 cm high. At Hoppekids, you will find several types of mattresses that have different properties.
ECO Luxury Bed Textiles
Our bed textiles are all perfectly matched to the ECO Luxury series. See all the exciting options and make the children's room even cozier.
This product has no reviews yet.