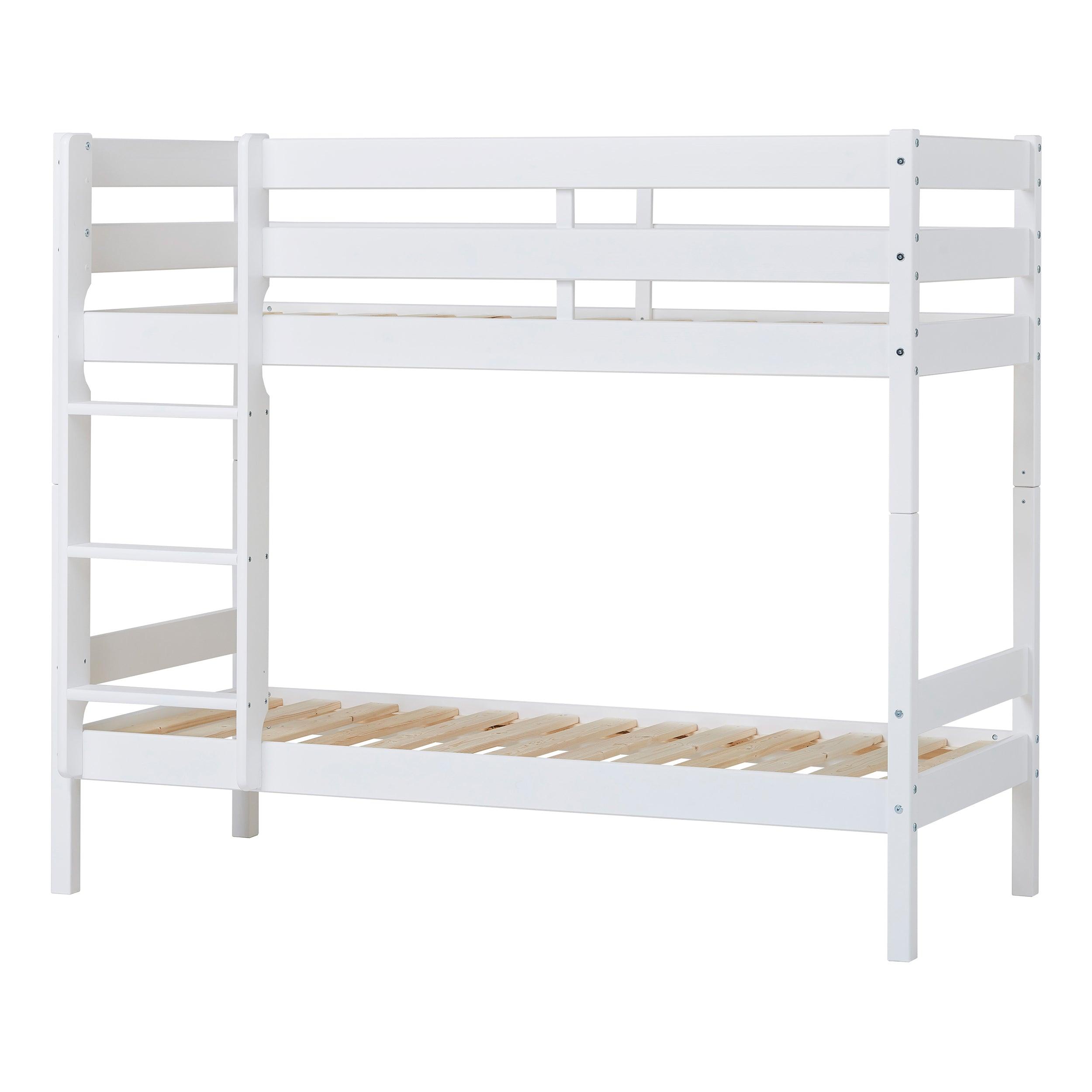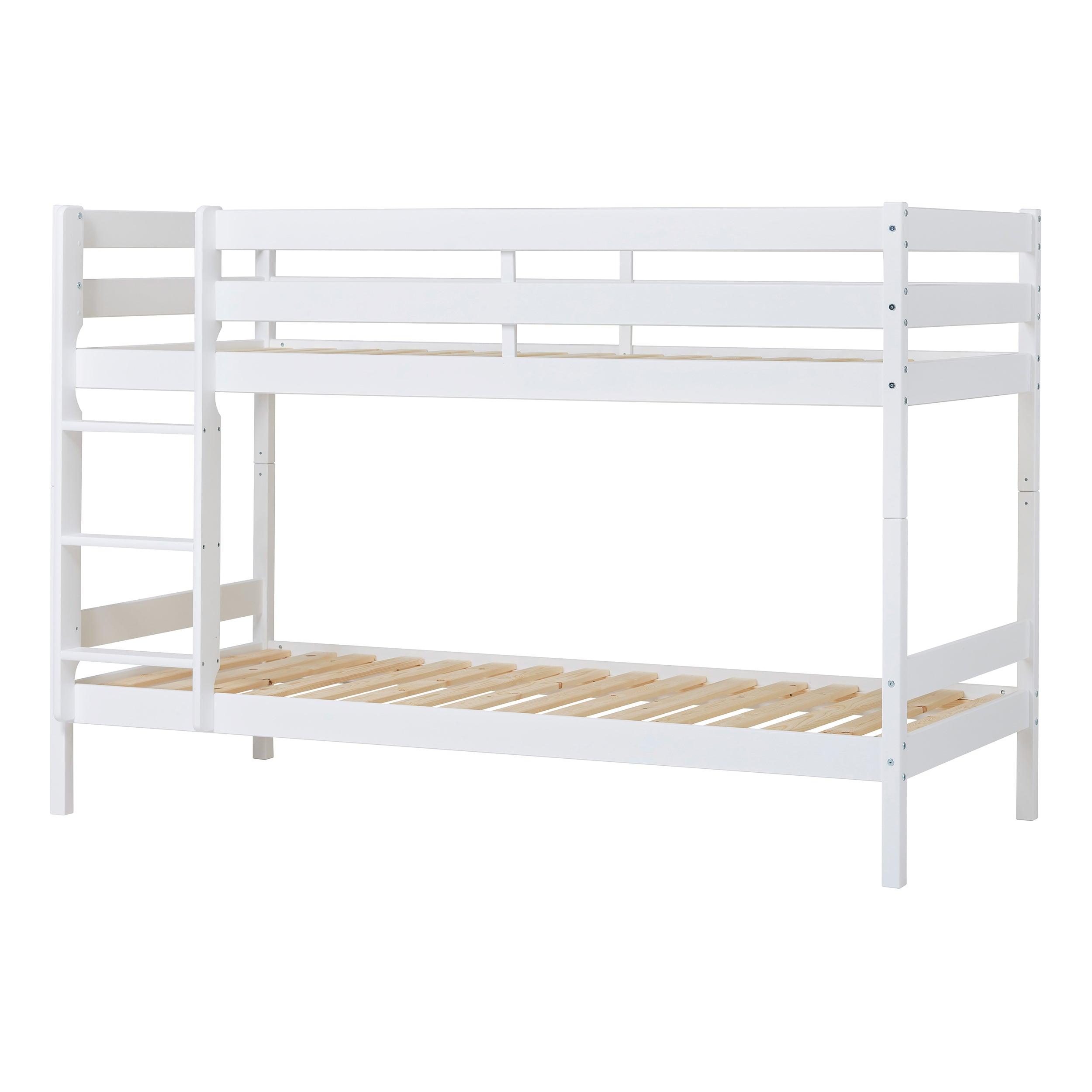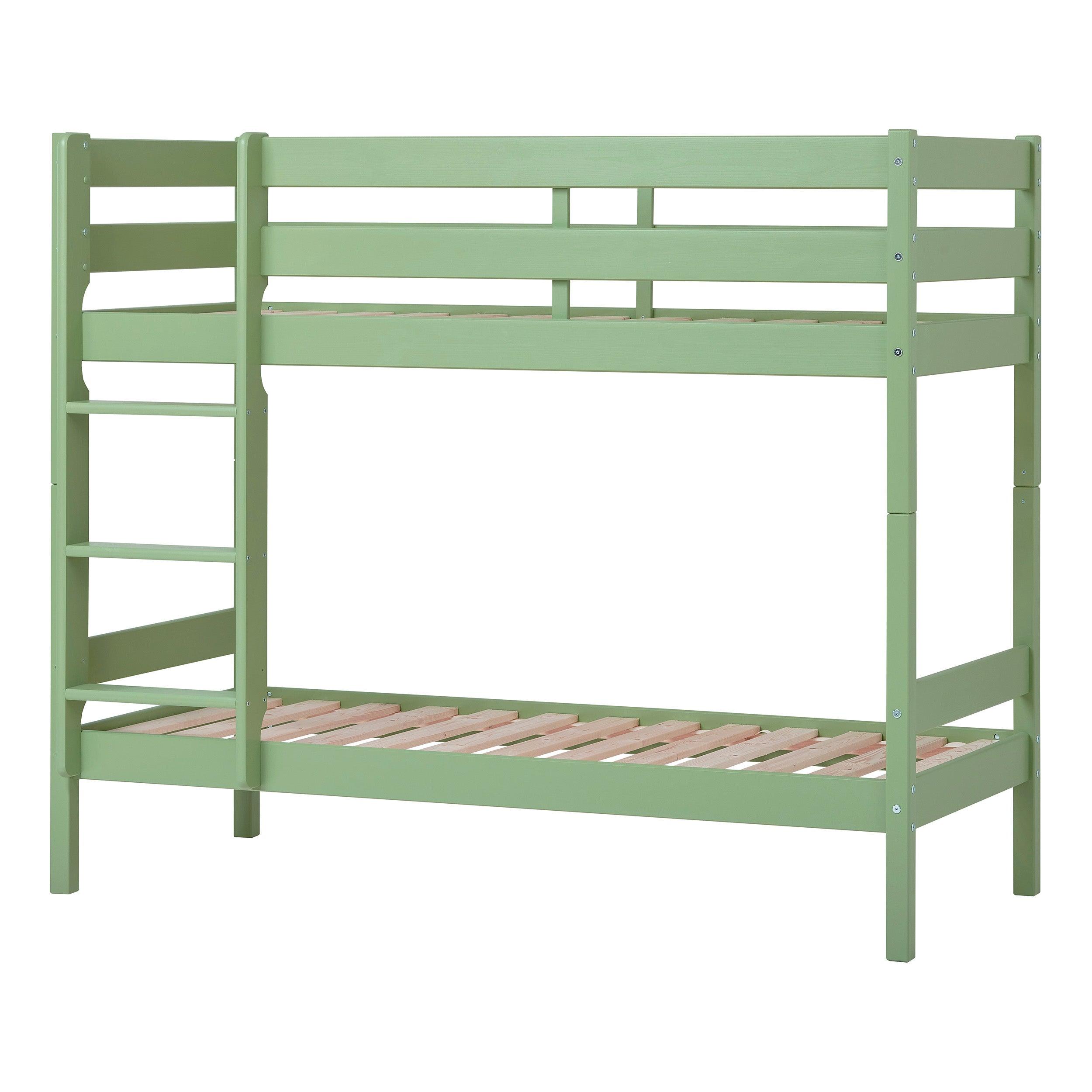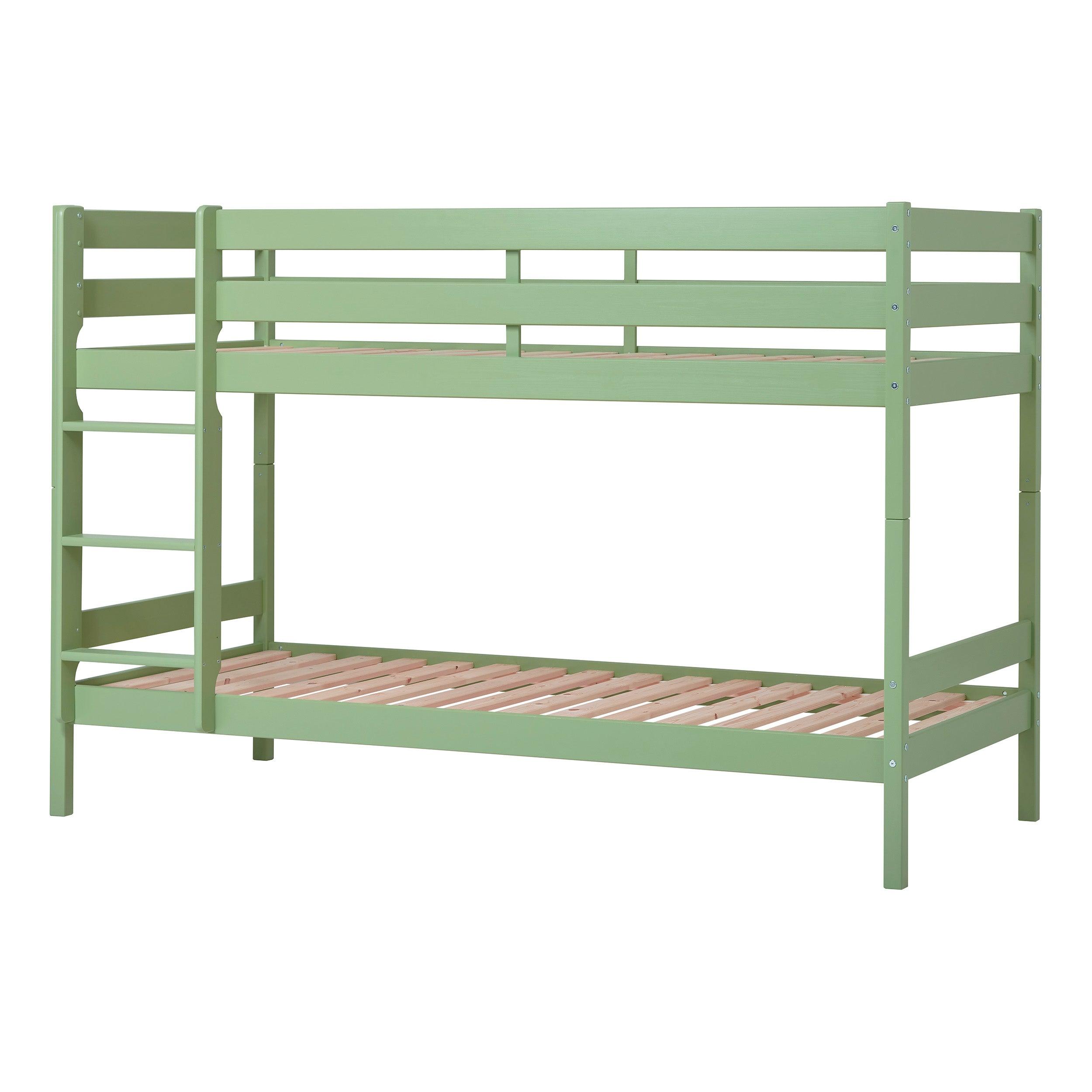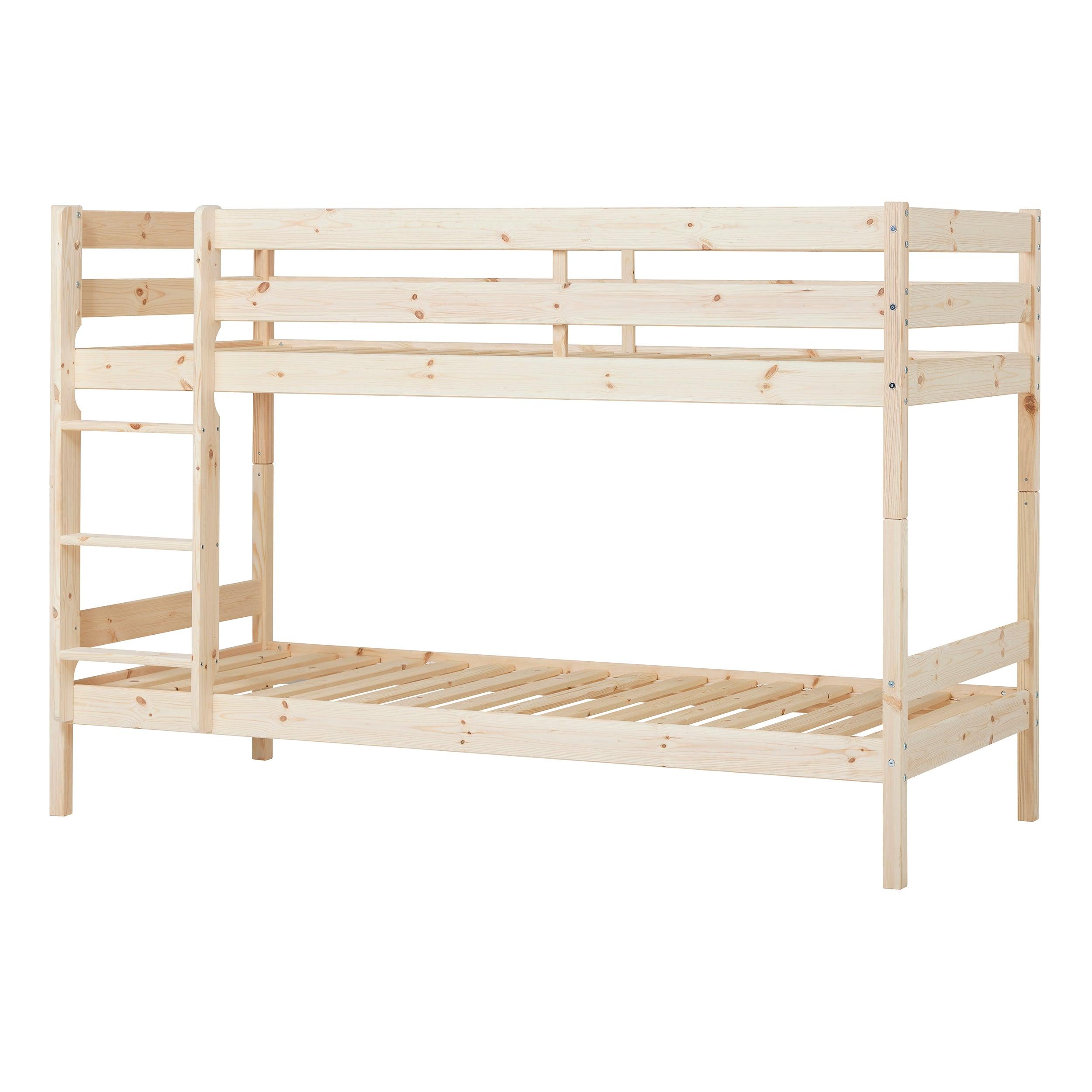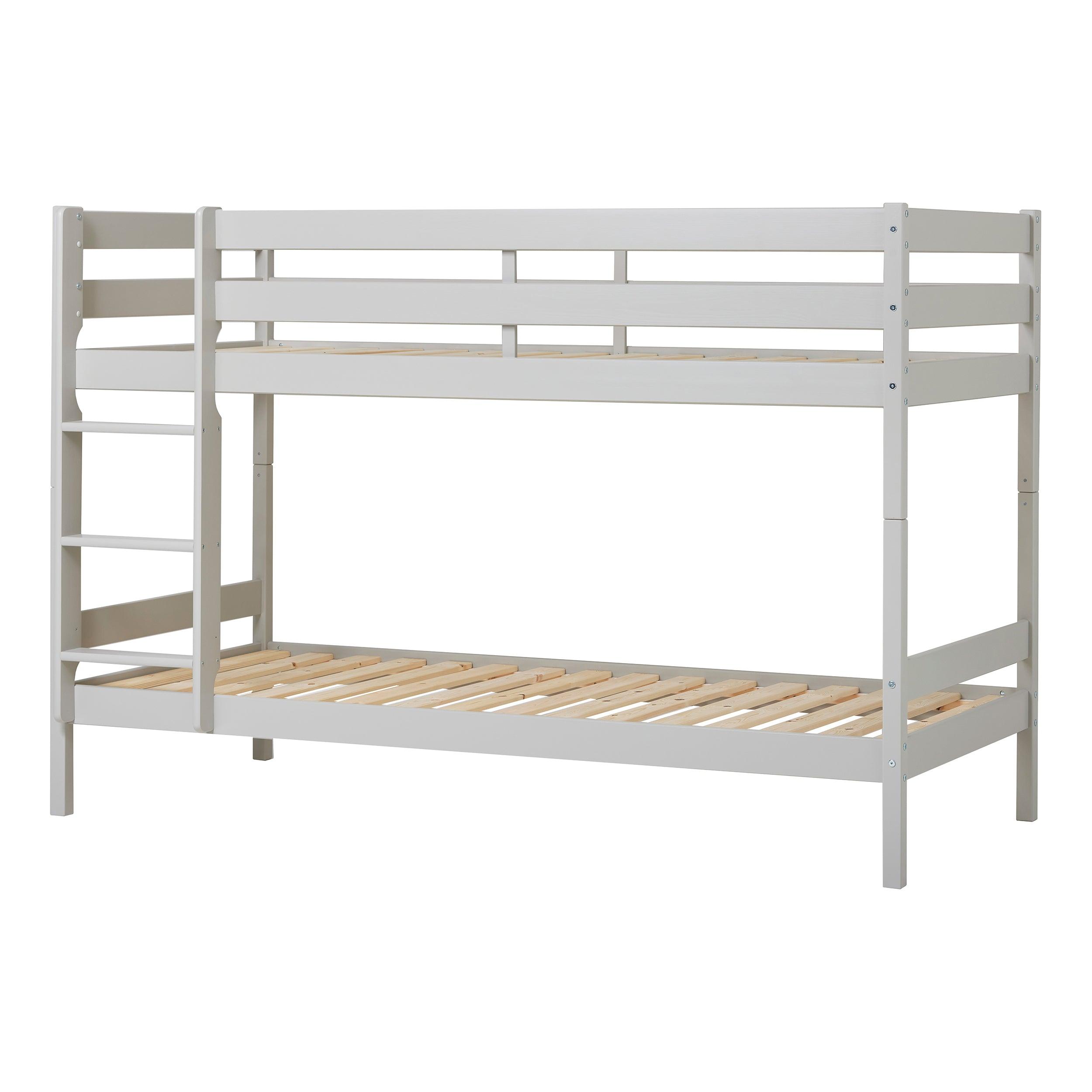 ECO Comfort Bunk Bed
---
SKU: 30-0510-32-07M
The ECO Comfort bunk bed is perfect for co-sleeping. Do your children share a room? Then a bunk bed is ideal, as it provides two beds instead of one without taking up more space in the room. It can be reassuring to share a room with siblings, and with a bunk bed, each child gets their own area for a sense of privacy during the night.

The bed is Swan-labeled. The Swan label is your guarantee that the product complies with all EU standards for children's furniture and has been tested accordingly. At the same time, the greatest possible consideration is given to the environment both when purchasing raw materials, during production itself, throughout the life of the product, and when disposing of the product.


The bed is TÜV-certified.

Max. weight: 60kg / bunk.

The bed is available in three beautiful colors as well as in an untreated pine version.

The bed is available in two sizes; 70x160 cm and 90x200 cm.

Specifications 70x160

Mattress size: 70x160 cm
Bed size: L166 x H140 x D81 cm
Height between bunks: 67.5 cm

Specifications 90x200

Mattress size: 90x200 cm
Bed size: L206 x H140 x D101 cm
Height between bunks: 67.5 cm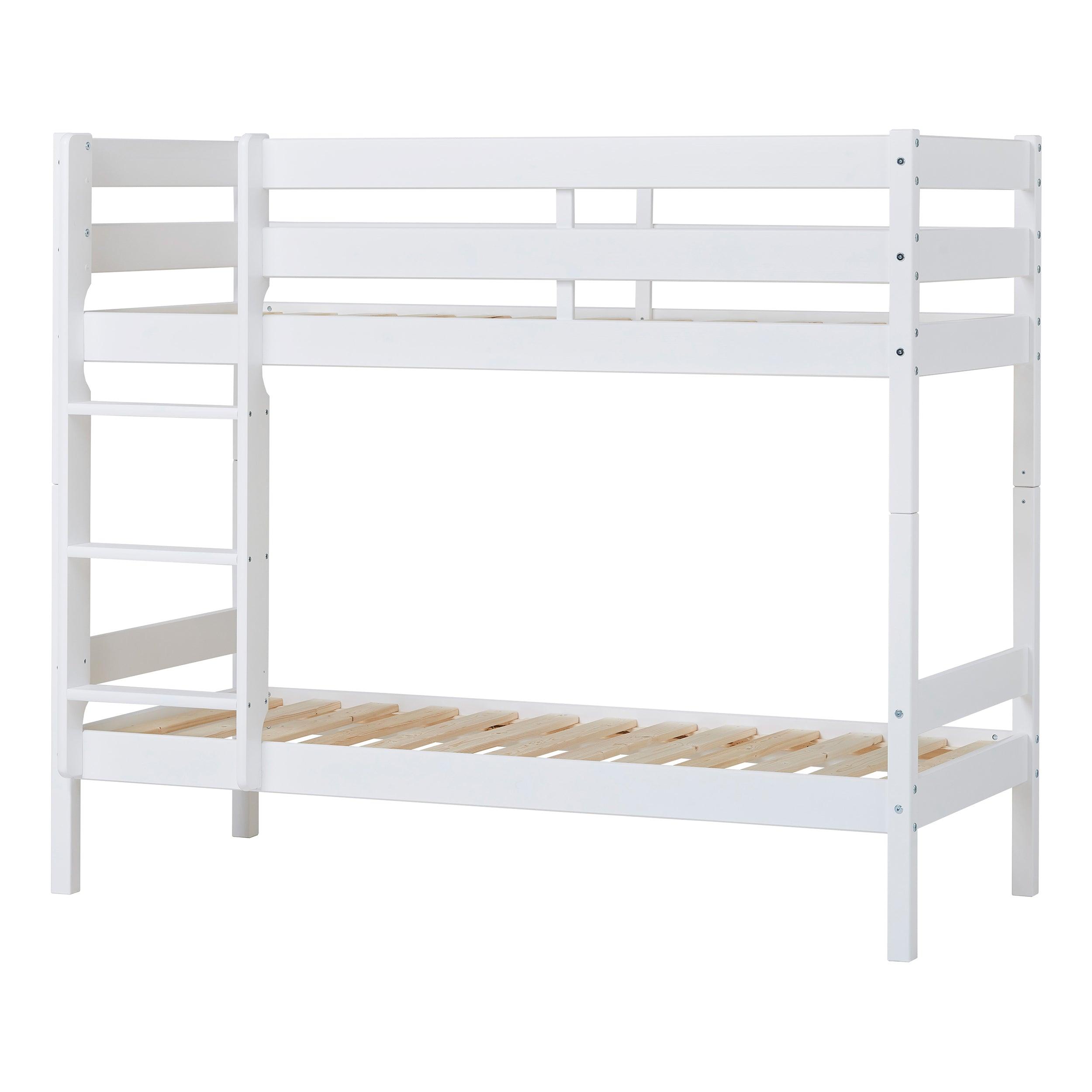 More about the product
Product specifications for ECO Comfort Bunk Bed
Series
ECO Comfort
ECO Comfort
ECO Comfort
ECO Comfort
ECO Comfort
ECO Comfort
ECO Comfort
ECO Comfort
Max. mattress height
9 cm
9 cm
9 cm
9 cm
9 cm
9 cm
9 cm
9 cm
Height under bed
21 / 98 cm
21 / 98 cm
21 / 98 cm
21 / 98 cm
21 / 98 cm
21 / 98 cm
21 / 98 cm
21 / 98 cm
Bed posts
42x42 mm
42x42 mm
42x42 mm
42x42 mm
42x42 mm
42x42 mm
42x42 mm
42x42 mm
Height
1400 mm
1400 mm
1400 mm
1400 mm
1400 mm
1400 mm
1400 mm
1400 mm
Width
810 mm
1010 mm
810 mm
1010 mm
810 mm
1010 mm
810 mm
1010 mm
Length
1660 mm
2060 mm
1660 mm
2060 mm
1660 mm
2060 mm
1660 mm
2060 mm
Shipping weight
39 kg
49 kg
39 kg
49 kg
39 kg
49 kg
39 kg
49 kg
Product weight
34.8 kg
45.5 kg
34.8 kg
45.5 kg
34.8 kg
45.5 kg
34.8 kg
45.5 kg
Max. weight
60 kg
60 kg
60 kg
60 kg
60 kg
60 kg
60 kg
60 kg
The first junior bed
The ECO Comfort series is designed in solid FSC® (FSC-C109484) certified pine wood. The series focuses on colors and small children who are transitioning to a junior bed. The wide range of colors allows every child to have a bed in their favorite color - and with the new Nature color, you also have the opportunity to personalize the bed.
All ECO Comfort beds come in the size 70x160 cm, which is perfect for children who are transitioning from a crib to a junior bed. The size of the bed allows the child to grow without the bed feeling too big.
In the ECO Comfort bed series, you will find junior beds, house beds, high sleeper beds, and bunk beds.
Swan-labeled children's beds
Many of the beds you can find at Hoppekids are Swan-labeled. The Swan label is your guarantee that the bed complies with all EU standards for children's furniture and has been tested accordingly. In addition, environmental considerations are taken throughout the product's journey.

The surfaces of the products are treated with water-based lacquer that is free of unnecessary chemicals and harmful substances.
All beds in the ECO Comfort series are Swan-labeled.
More about ...
ECO Comfort
Mattress for ECO Comfort Beds
For ECO Comfort, we recommend a mattress with a thickness of 9 cm. This way, you comply with the EU's recommendations for safety during sleep.
Slatted bases for ECO Comfort
The slatted bases are always included in the product. Remember that they come with a 5-year warranty! The slatted bases in ECO Comfort are approved for up to 60 kg.
ECO Comfort Bed Textiles
If you have fallen in love with our beautiful textile series, do not despair. ECO Comfort high sleeper and bunk beds also fit with all our textile series.