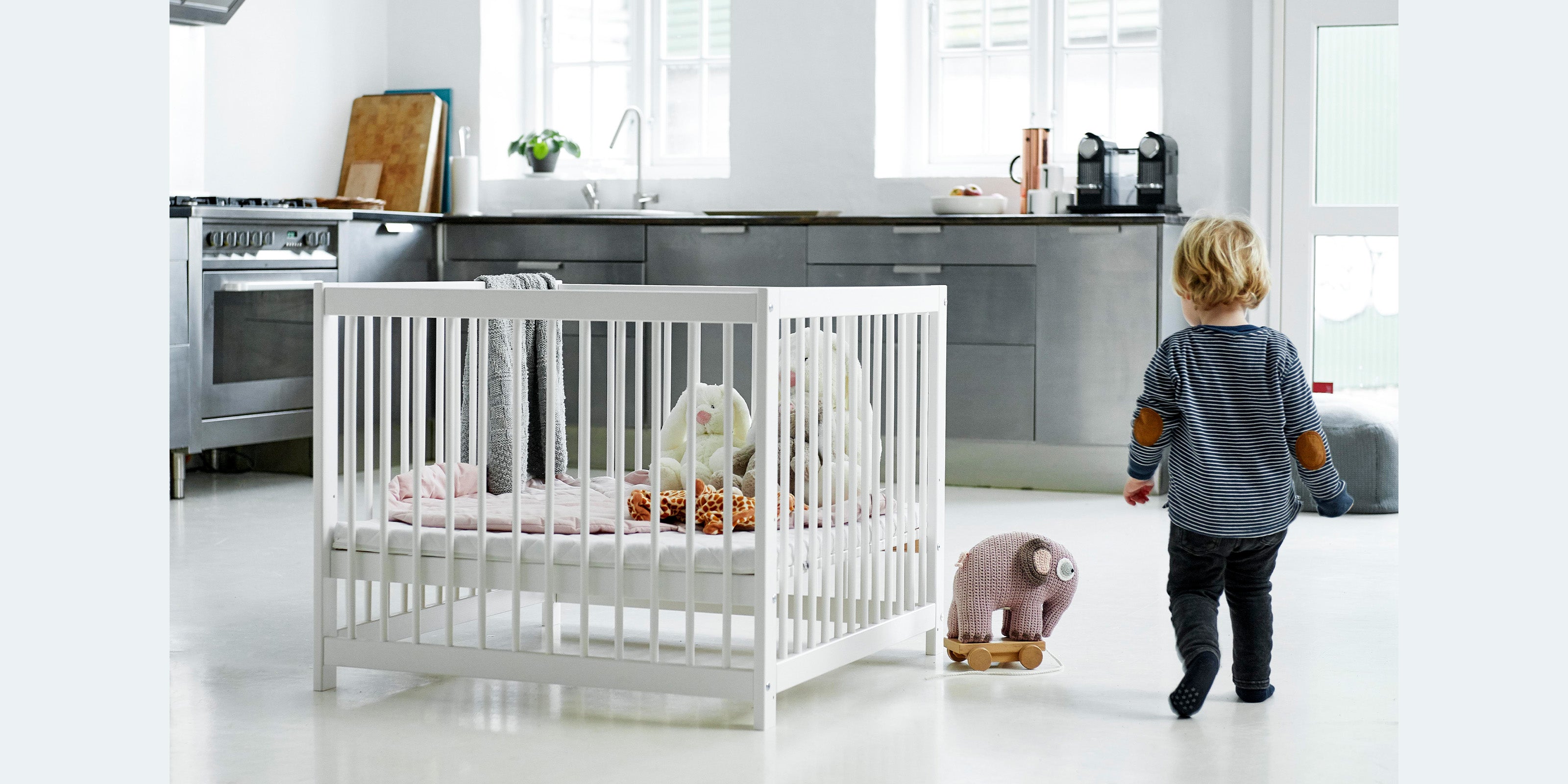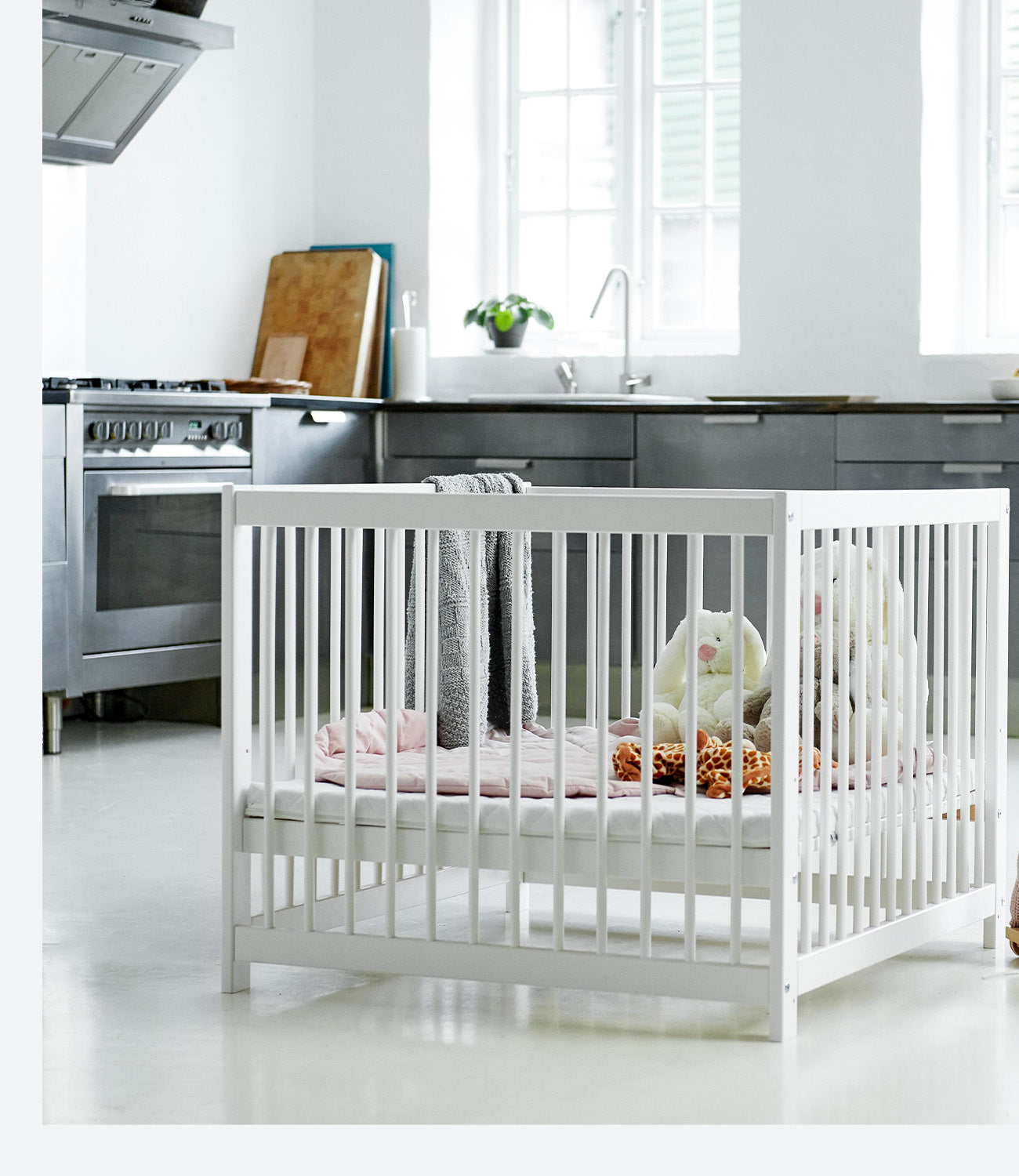 Play Pens
Are you preparing for the arrival of a little new one? Make your home baby-ready with the right furniture. A playpen is a safe and cozy place for a little one. It is a safe place for you to place your baby at times, when it may be impractical to have a baby in your arms. For example, when cooking, taking clothes out of the washing machine, or going to the toilet.
The playpen can be made into a lovely place for your baby with a blanket and a mattress, where they can feel safe, relaxed, and playful.
When can you use a playpen?
You can benefit from a playpen until your baby is approx. 10 months old. While your child is still very small, you can tie a cord across the playpen and attach toys to it. This is a useful tool to stimulate and train your child's eye-hand coordination because the child will begin to reach for the toys when they are 2-3 months old. For safety reasons, you should remove the cord as soon as your child starts to attempt to stand up.
The playpen can be a great way for mom or dad to take care of a couple of other things - while looking after the baby. Your baby can safely be placed in the playpen if you have to go to the bathroom, load the dishwasher, or cook dinner. In the playpen, your baby is raised a bit from the floor - cutting out draughts.
Is a playpen necessary?
It's no secret that you have to buy a lot of new things when expecting a baby. A playpen is not the most important piece of furniture when preparing your home for the arrival of a baby. With that being said, there are some families or situations in which a playpen can offer great value.
The playpen can for example work as protection in families who have a cat or a dog. Here, the baby can lie in peace protected from the surrounding world. It can also be practical if other children in the house yet have to figure out how to play with their little sister/brother.
A playpen for learning and playing
The bars of the playpen are the ideal support for when your child is starting to stand and walk – both from the inside and outside of the playpen. By using a non-slip underlay, e.g. a playpen mattress, which also serves as isolation you will create a soft, comfortable, and safe surface for your child.
Use the playpen as a supplement
It is important to use the playpen with care because your child will train useful skills, such as crawling and rolling when placed on the floor. As soon as your child begins to move about on his or her own, you should only use the playpen for shorter stays and the child's safety e.g. when you have to leave the room.
If you are worried a playpen will take up too much space in your home, you can consider buying one with a smaller size. The playpen from Hoppekids only measures 91x85 cm and has a mattress size of 80x86 cm. The base is adjustable to three different heights. Use these settings to avoid hurting your back when you are lifting your child as well as protect your child from draft.
The playpen is neither a cage nor a prison for your child. From your child's point of view, it is rather a bubble that protects your child from everyone else. The playpen is a safe haven for your child where disruptions, curious pets, and siblings are kept out. It is also a safe and secure spot for your child if you need to do something that requires you to turn your back on the child for a bit.