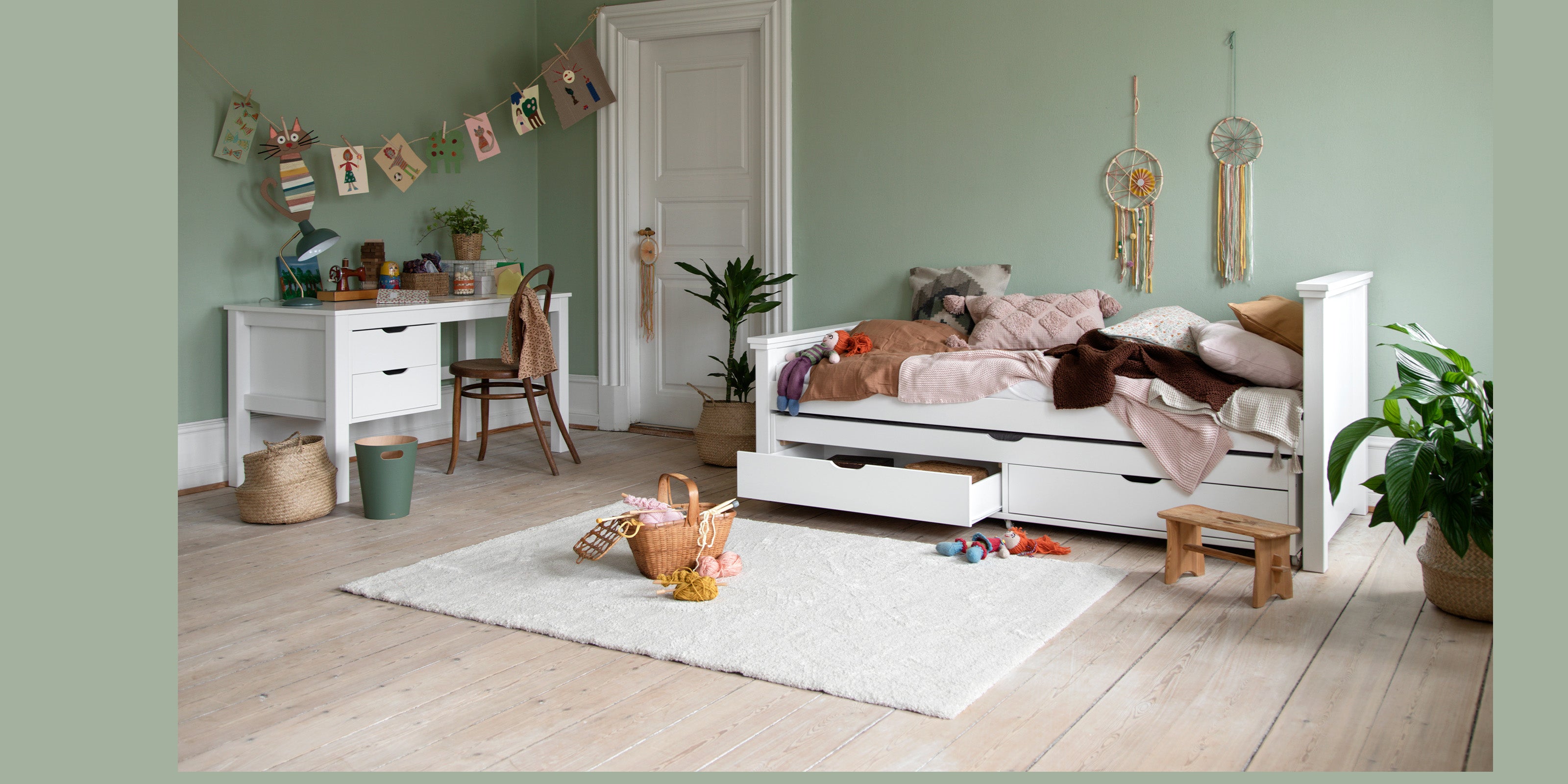 DELUXE
DELUXE is the classic junior bed in the size 90x200cm with a Nordic and timeless design, available in 2 different versions. The DELUXE bedside is the same, and then you can choose between 2 different bed ends - MAJA and NOAH.
MAJA has modern and elegant bedsides, available in 2 different heights. That makes MAJA perfect for any room - even those with slanted walls.
NOAH has bed ends with a bit more edge. The bed ends have vertical grooves giving the bed a different and unique expression.
DELUXE - short & sweet
✔ Elegant and Nordic design
✔ Brilliant storage options
✔ Solution for adding extra sleeping space
✔ Removable safety rail
✔ Bedsides at different heights
The perfect bed for your tween!
The DELUXE bed may be called a junior bed, but it is perfect for your tween. The DELUXE bed is designed in a Nordic and elegant design, which makes it perfect for a tween bedroom because it can be styled the way they want. The 2 different styles – MAJA and NOAH make them perfect for both boys and girls. And if you have a room with slanted walls the DELUXE series come with exchangeable bed ends – so you can put the bed where ever you like in the room and even change it up later on if you want that. The smart thing about the DELUXE bed is that you can fit in a pull-out bed that has built-in drawers, so you always have an extra bed for when the kids have sleepovers and you have space for extra storage too. And if you don't want the pull-out bed, you can either just have the bed, or you can use the space for big drawers, so you can hide away stuff.
Junior bed with storage
The accessories for DELUXE are carefully chosen and have focus on optimizing the space beneath the bed. The big, wide drawers are as deep as the bed. The DELUXE drawers are the perfect storage options if you want to make it easy for your kid to reach their toys.
The pull-out bed with built-in drawers is available in two different sizes: 90×190 cm, which utilizes the entire depth of the bed, and 70×190, which is great if you do not have a lot of room in front of the bed. Both drawers and pull-out beds utilize the entire height under the bed.
Mattress for DELUXE
Hoppekids has different mattresses, so you can find exactly the mattress that fits your child. Find and read more about the different mattress types here. We recommend that you use a mattress that is max 12 cm high with our DELUXE beds.
Slanted walls? No problem!
Both MAJA and NOAH in the DELUXE series come with exchangeable bed ends – available in different heights. That means, if the bed is placed in a room with slanted walls, you simply choose bed ends that will make the bed fit into the room. Depending on how you plan on placing the bed, you can pair one loft bed end with a low bed end – or choose two low bed ends.
Combinations - MAJA or NOAH
Are you unsure of how to put together a DELUXE combination that will fit exactly your home? Or which accessories to choose? Let us guide you!
The MAJA bedsides have an elegant and classic expression with a beautiful finish on the edges. If you choose MAJA, there are two different heights for the bed ends – choose one of each or two of the same.
The NOAH bedsides have vertical grooves giving them a cool and edgy look. If you choose NOAH, there are two different heights for the bed ends – choose one of each or two of the same.
Bed base
The DELUXE beds all have the same bed base in the size 90×200 cm. You can however choose a flexible slat frame instead of a regular base for your DELUXE bed. The flexible slat frame will adjust itself to your child's body, which will keep your child's spine straight while they are sleeping. It provides better comfort for a great night's sleep.
Safety rail: Is your child an uneasy sleeper, and would you feel more comfortable, if the bed had a safety rail? The removable safety rail for DELUXE can create safety during the night, and easily be removed during the day, so there is room for play.
Accessories for the DELUXE junior bed
DELUXE comes with a range of different accessories to make it fit your home and your needs. You can choose to simply have the bed, but you can also take advantage of the space underneath the bed:
Does your child often have friends over for sleepovers? Or does your child co-sleep with you or your siblings? Then choose the pull-out bed for your bed. It gives you an extra sleeping space and room for storing toys, clothes, etc.
Are you in need of extra storage room for toys, clothes, or bedding? Then choose the deep and spacious drawers for your bed. Two drawers will fit underneath the bed and provide you with a lot of storage.