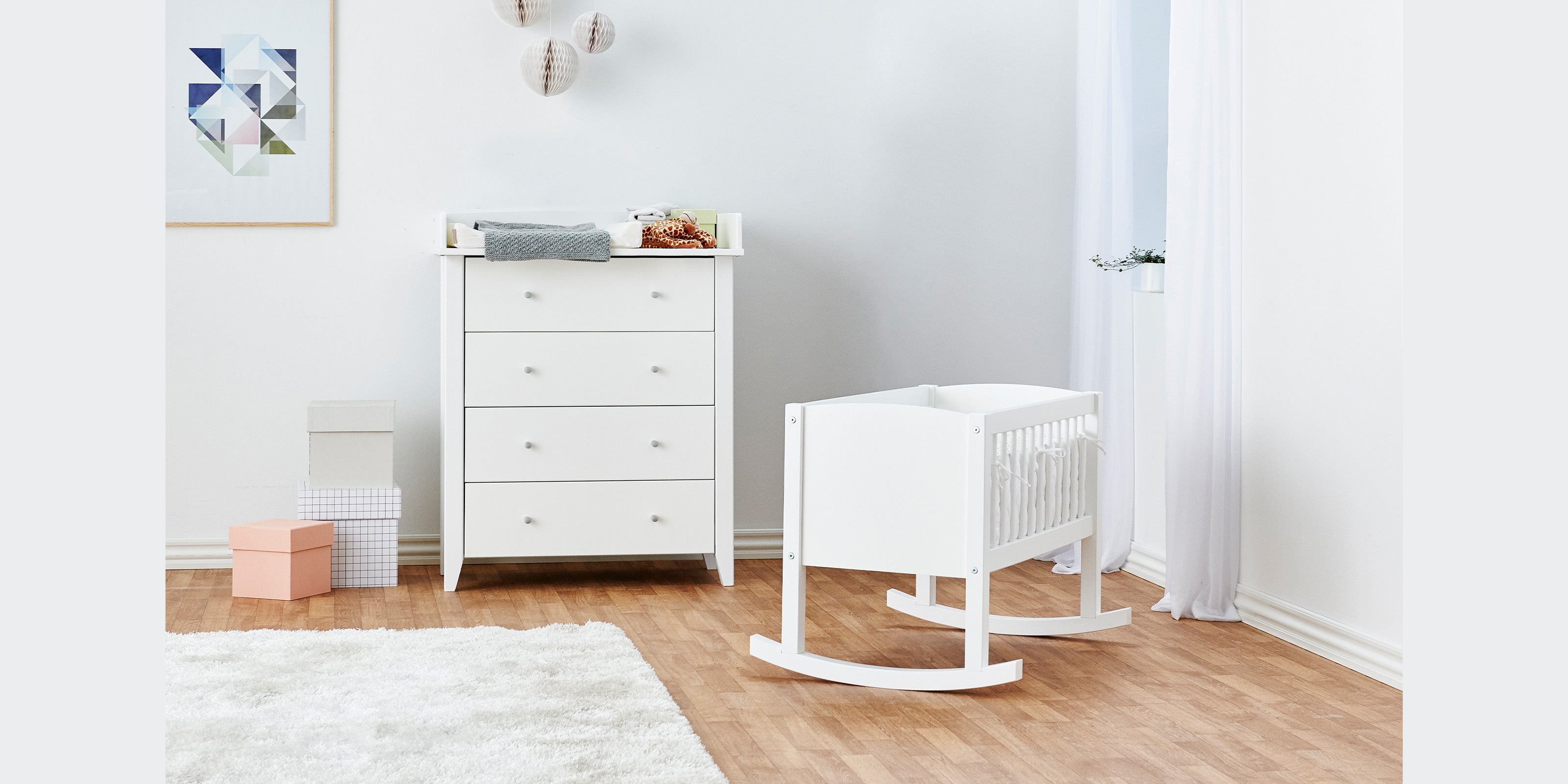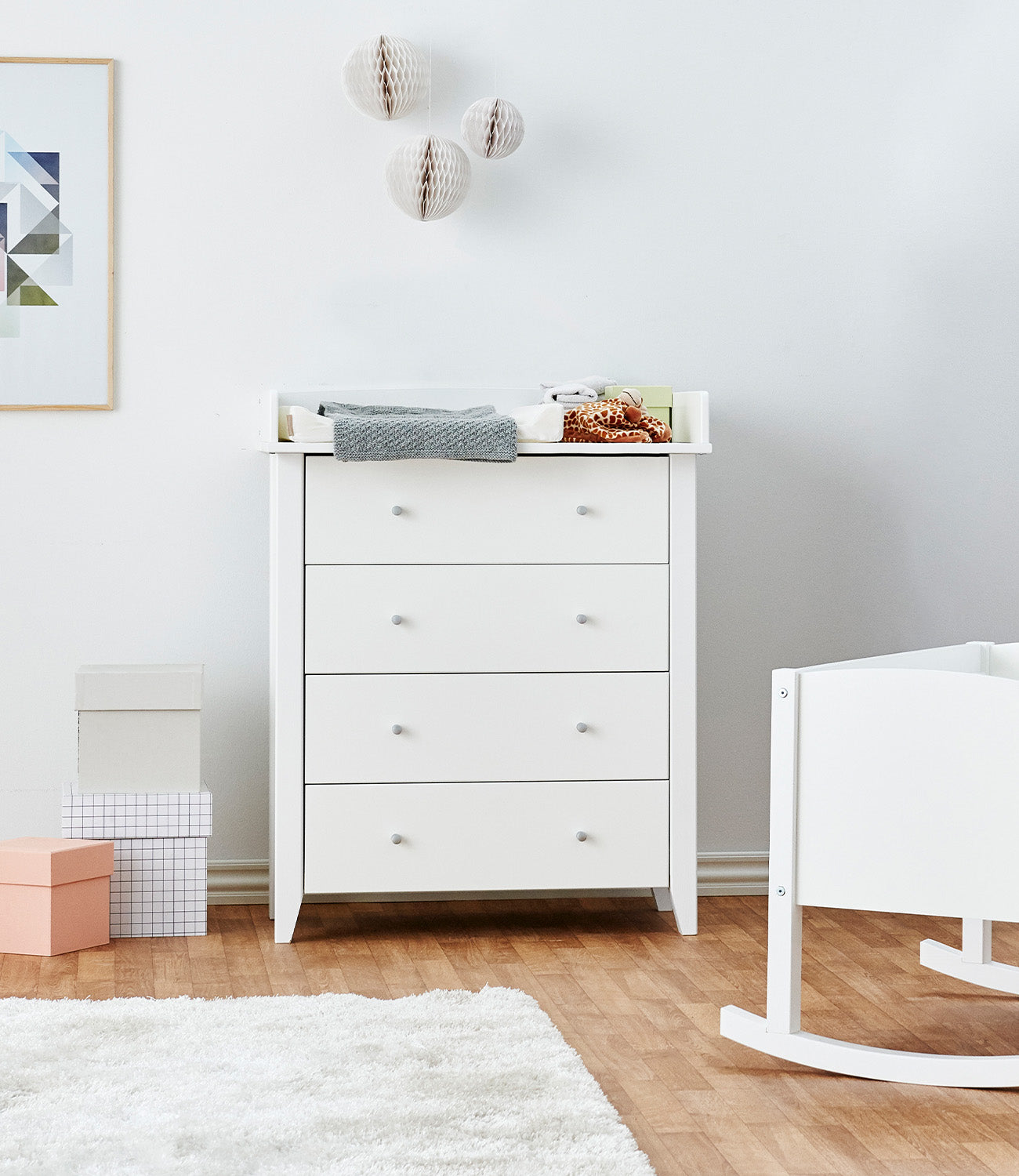 Changing Tables
Are you looking for a simple changing table in a classic design? At Hoppekids we have made multiple solutions, so you can find that solution, there is the best fit for you and your home - whether it is a changing table, a dressing top for a dressing chest, or a dressing chest.
We know that the dressing chest place is a place where you and your baby will spend many hours together, because of the many diaper changes during the day. It is therefore important to have a good place to stand and where everything is near you.
We have collected all the knowledge you should use about a changing table, and gathered a bit of inspiration for decorating your changing station, and how you can change your changing table to a chest of drawers when it's no longer needed as a changing station.
Changing tables with storage
It's almost impossible to figure out what kind of changing table you should get because there are so many options. You can get changing tables with drawers, with shelves, with both, some you can change into a dresser afterward and so on. 
But a good start is to choose a changing table with drawers or a changing table with shelves because then you have plenty of space to store nappies, creams, extra clothes, and washcloths close by. When all the things are close to you, when you change your child, it becomes easy to reach down for the things, while you have control over your child. It is therefore super smart to choose a changing area that allows you to have things close to you.
At Hoppekids you can also find changing tables with wheels, which makes it easy for you to move it around the room so it does not get in the way. The changing table with wheels comes with 2 large shelves, so there is room for nappies, etc. And for the IDA-MARIE dressing table, you can get curtains so all the diapers, etc. are hidden. When your child is done with diapers and there is no longer a use for a changing table you can turn the IDA-MARIE dressing table into movable shelves for the kid's room or somewhere else. 
Make the changing table cozy 
Since you and your child will spend a lot of time at the changing table, it may be a good idea to make it cozy. You can make the changing area cozy by e.g. hanging an agitation above it so that the child has something to concentrate on and stay entertained by while being changed. Another option could also be to add some pictures near the changing table, both for the sake of coziness, but also so the child has something to look at.
You can also make sure to have some toys at the table so the little hands are occupied while you change the child, so you can avoid the child having the hands where it is impractical.
Changing tables without harmful chemicals
At Hoppekids, all changing tables are made of FSC® (FSC-C109484) -certified Pine and MDF, which means that no more wood is felled than the forest can reproduce. In addition, the changing tables are surface-treated with environmentally friendly, water-based varnish, without harmful and unnecessary chemicals. This is to avoid your child comes in contact with harmful chemicals.
Where to put the changing table
5000 - That is the amount of diapers, you can expect to change during your child's first 3 years. Most changes will hopefully happen in a well-equipped changing station. We will give you some pointers on how to pick the best solution for you and your child. You have to consider a great many things when creating a changing station.
Where should it be located and how much surplus space does that room have? Is it necessary to move the changing station out of the bathroom - and then how do you get access to water? 
Where should you place the changing table?
When choosing a changing station, you have to remember that it is a workstation. A lot of people tend to focus mainly on the decorations and coziness of the situation while forgetting the practical details.
The optimal placement of the changing station is next to a tap with running water. For that, the bathroom is the obvious choice, but some choose the kitchen or the utility room if space is an issue.
Some place the changing station in the bedroom because it has space or because they want to keep all the baby items in one place. When you don't have access to running water, you can use a small wash bowl. Some bowls are divided into several spaces so you have water for both the 'head and the tail'. During the day – and especially during the night – you should keep lukewarm water in a thermos for easy access.
No matter where you place your changing station, it is important to keep necessities nearby. These include diapers, washcloths, water, clean clothes, lotions, nail clippers, and cotton swaps among others. They should be easy to reach so you don't have to leave the station during a change.
If you need to turn away from the station, it is recommended to place your child on the floor or place a hand on the baby's belly so you know the baby is lying safely on the changing station. Also, keep in mind that the station should have the correct height so you don't strain your back when using it. 
For how long can you use the changing table 
The changing tables from Hoppekids are meant to be used until the child is up to 11kg.
In the longer term, it's a good idea to invest in a proper place to change your baby so you don't overburden yourself. You spend a lot of time together on nappy changes and other care routines, and having an optimal place to change your baby is a good investment for your back. The changing table is a great place to gather all the things your baby needs as well.
It's also a good idea to have a fixed place where nappy time takes place each time. You get to practice the routine that children enjoy so much and it's a good way to keep track of nappies, cloth nappies, toothbrushes etc. 
Changing time is bonding time
Even though it rarely is downright lovely to handle a used diaper, the time you spend changing your child is a perfect opportunity to bond. It allows you to talk to your child and share a lot of important eyes and physical contact. This makes your child grow accustomed to you and to the process of changing diapers.
When your child grows – and grows restless – you might want to consider having a toy nearby for entertainment. However, the changing station should be kept fairly neat so neither you nor your child's attention on this quality time goes out the window.
From changing table to dresser
Most of the changing tables from Hoppekids can be changed into a dresser when there's no longer a use for it as a changing table and vice versa.
The smart thing about choosing a changing table that can be changed into another piece of furniture is that you can use the furniture for a longer period and thereby reducing your need for new furniture, which is both environmentally and economically better for you and the earth.