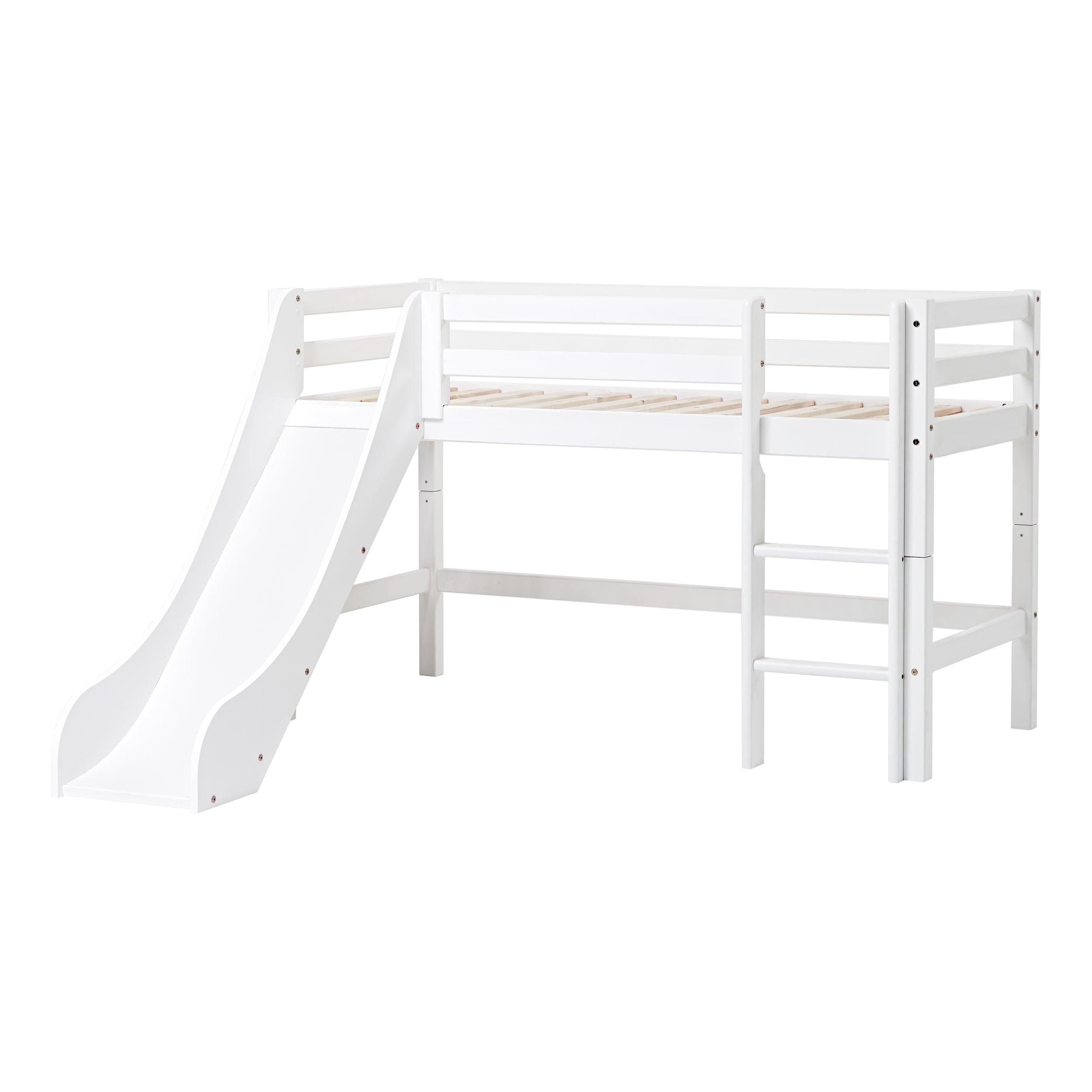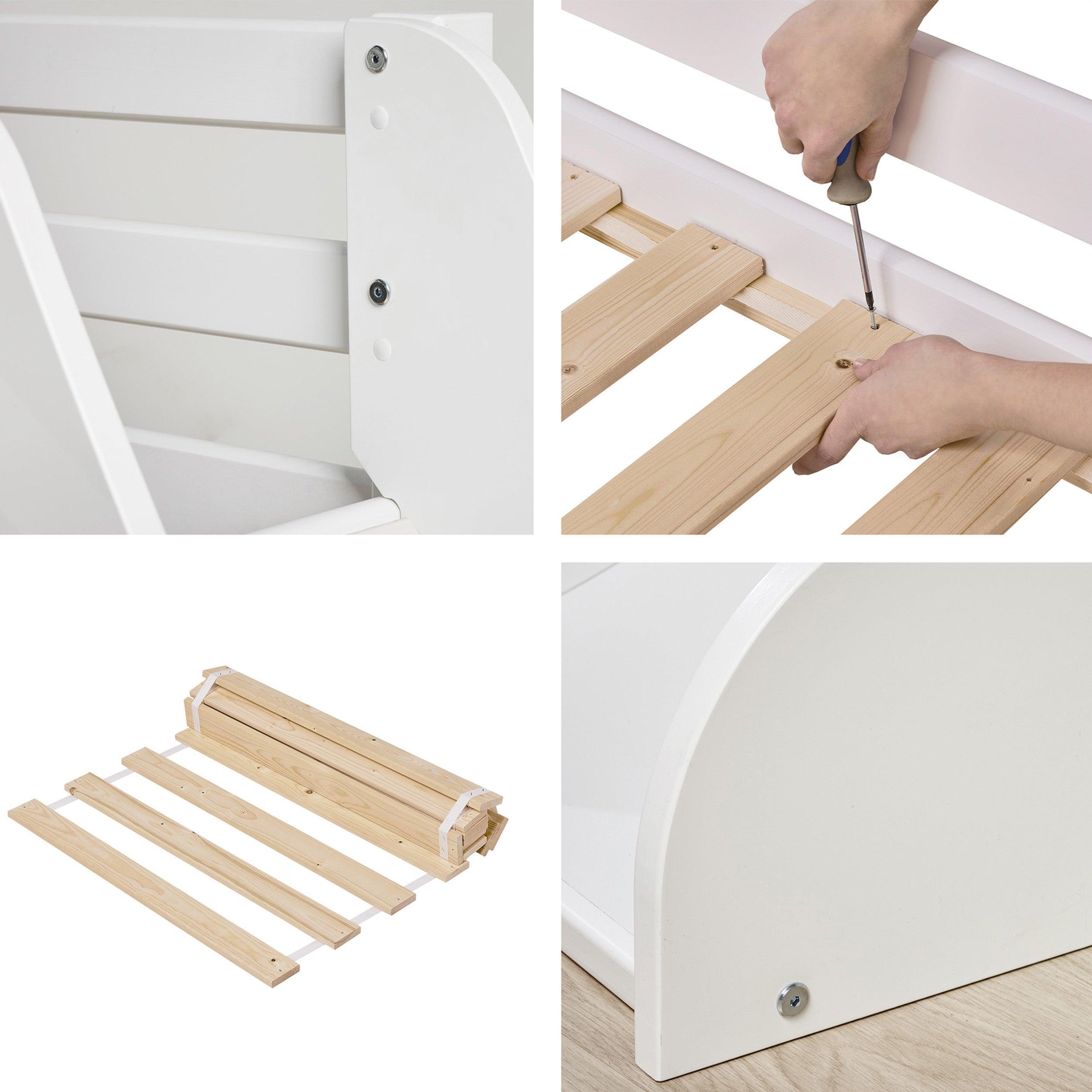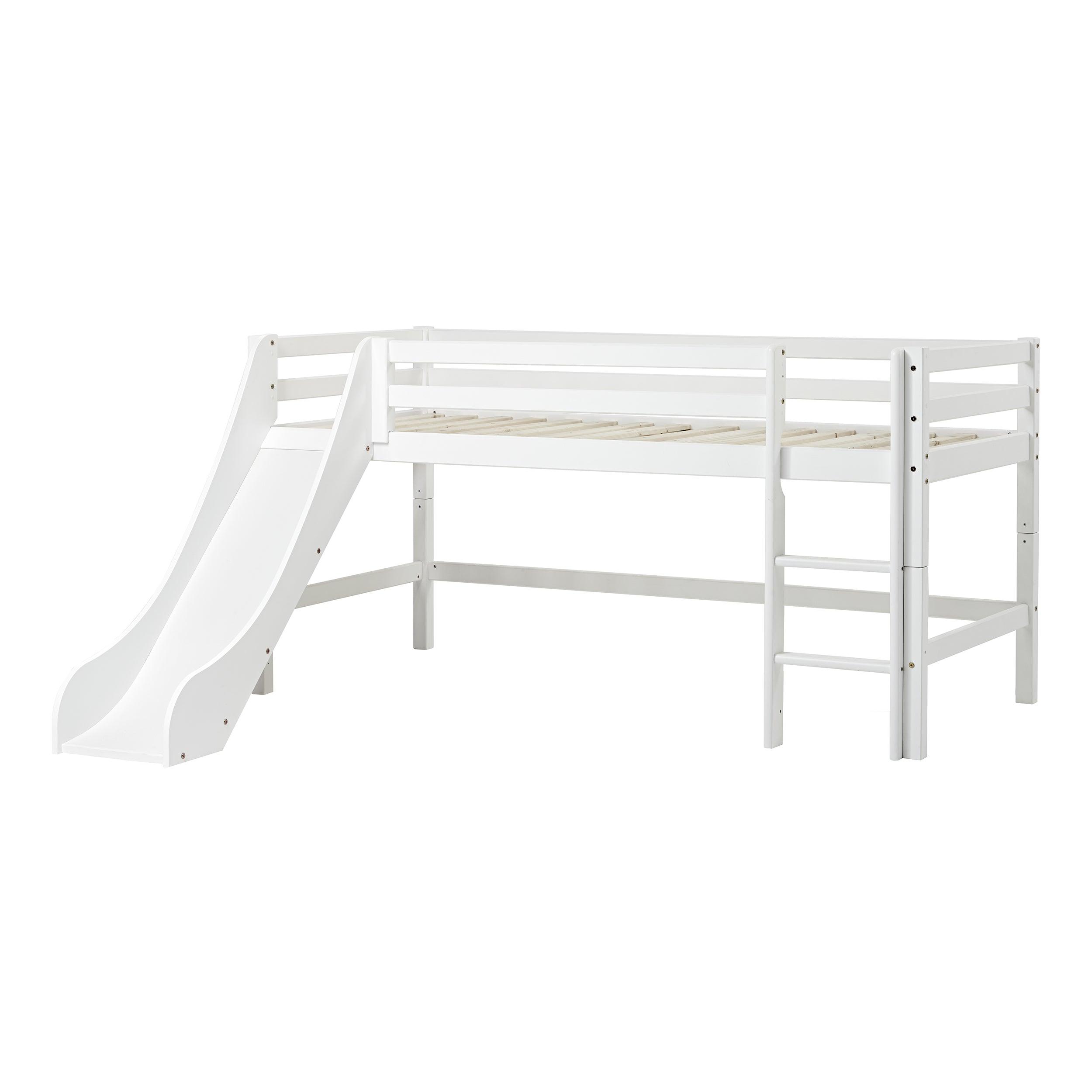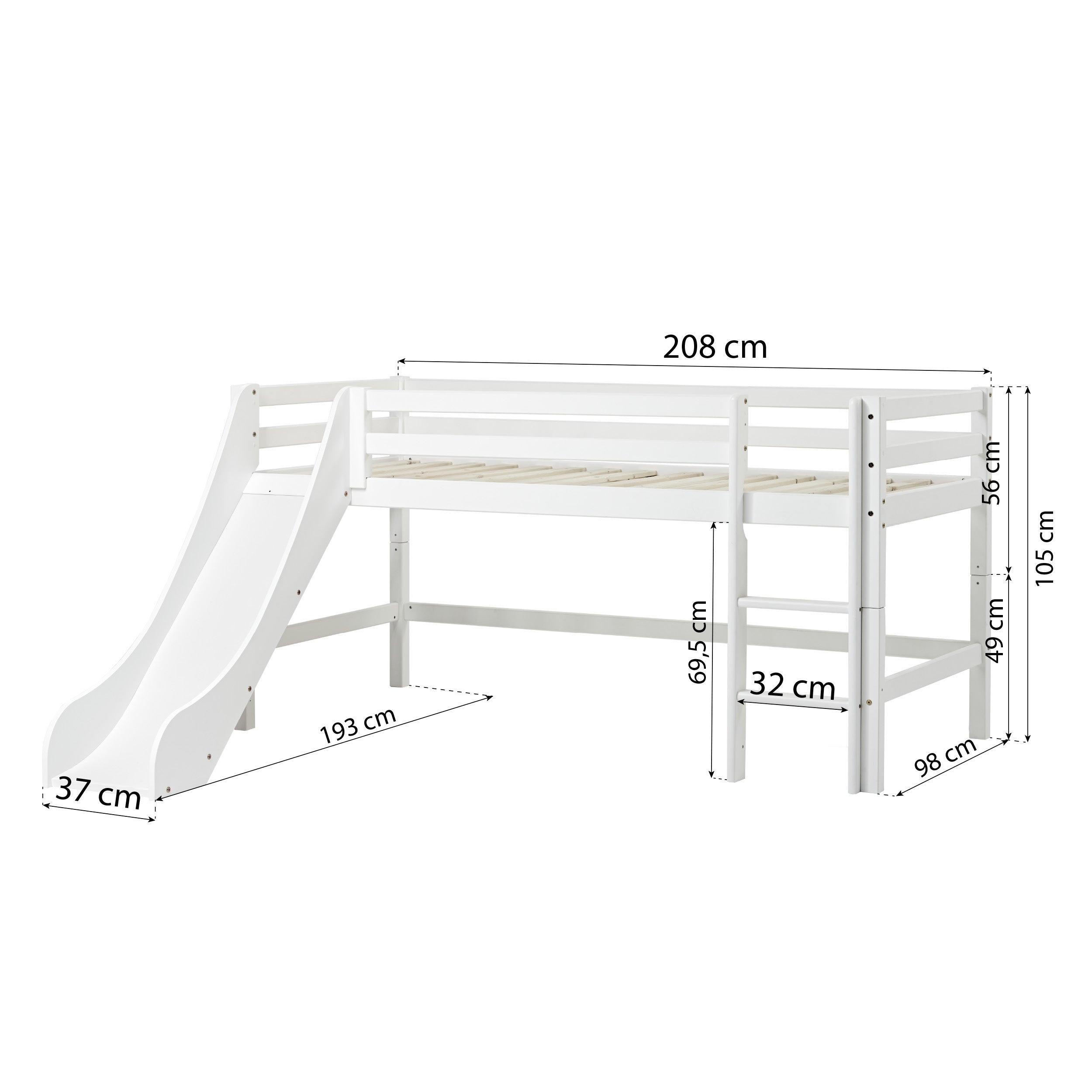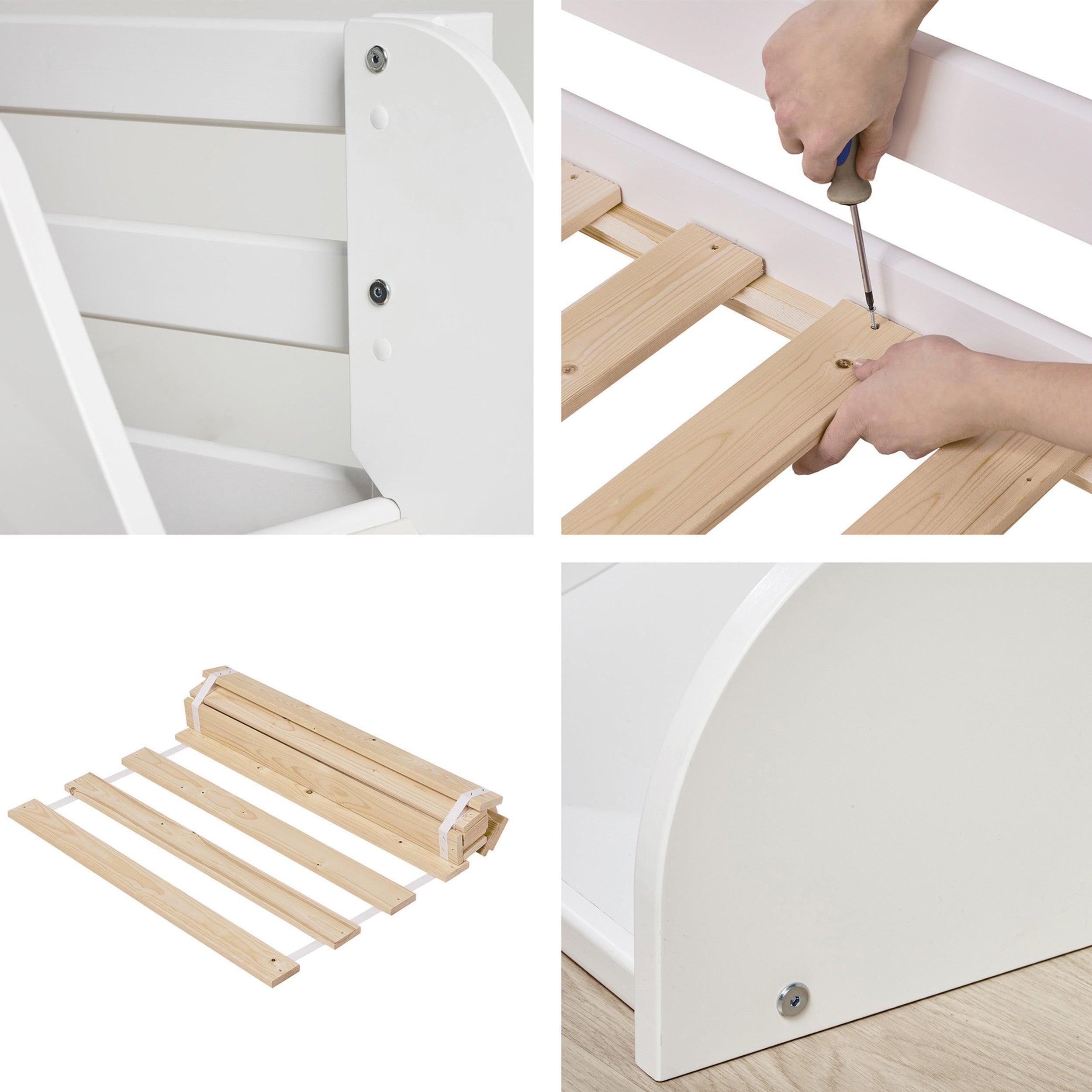 Hoppekids ECO Dream Mid Sleeper Bed with Slide
---
SKU: BASIC-A5-3
Made in EU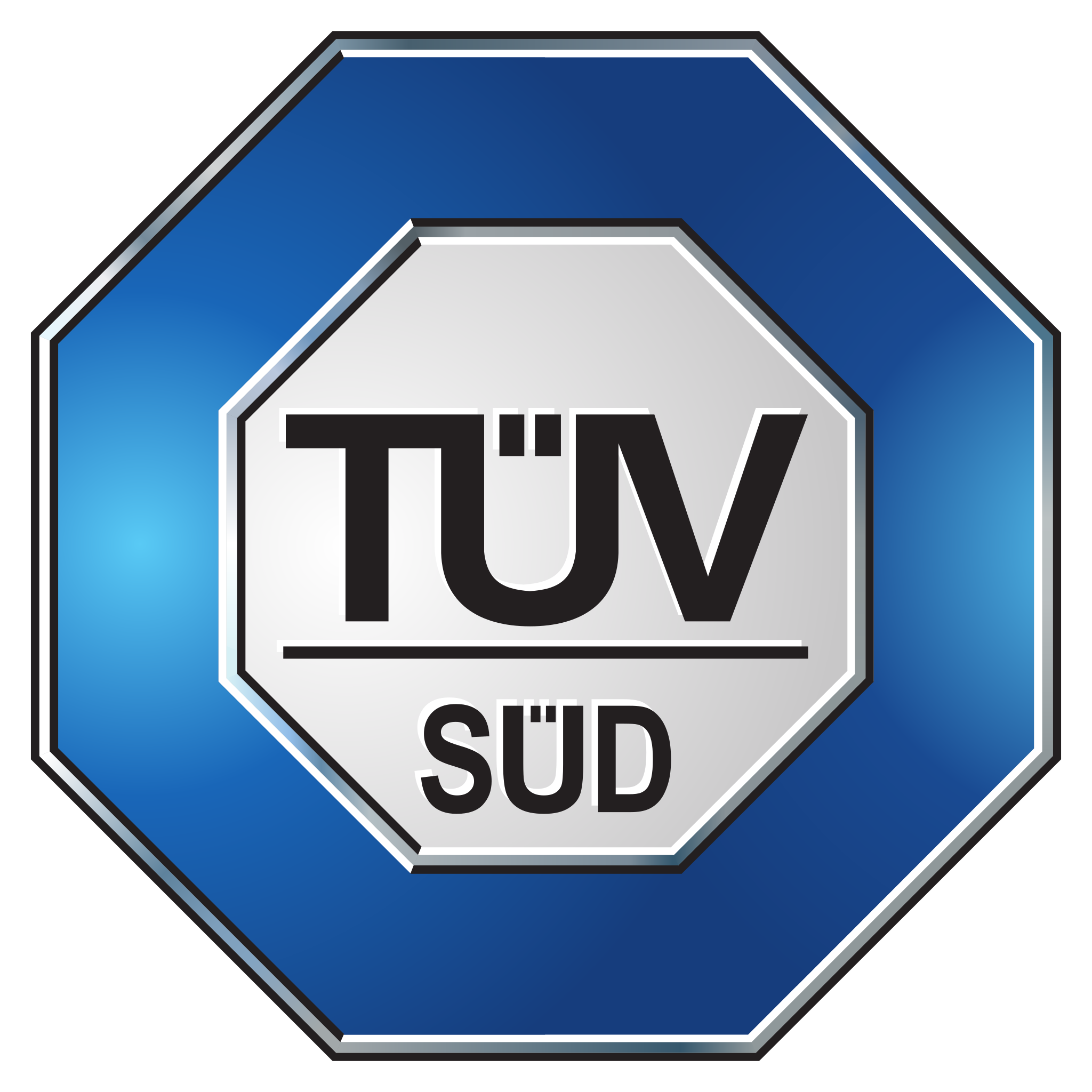 The bed is TÜV safety approved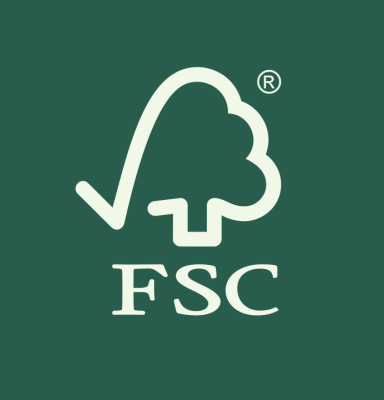 FSC® (FSC-C109484)-certified pine
ECO Dream mid sleeper bed with slide from Hoppekids is a fun and practical bed. It fits perfectly in even small children's rooms because there is extra floor space under the bed for either storage or play.

The height of 105 cm is good because your child has to climb into bed - and thereby train their motor skills - but not so high that it feels unsafe. If you hang curtains in front of the bed, you can create the coziest hideout - possibly decorate it with fairy lights, nice pictures, a mattress, pillows, and blankets.

The slide transforms the bed into a playground, making it fun to get up in the morning. The slide and ladder can both be mounted on either the right or left side.

The surface is treated with water-based lacquer free of unnecessary chemicals and harmful substances.

The bed is divisible. This means that you can convert it into a junior bed if you no longer want a raised bed.

Specifications 70x160

Mattress size: 70x160 cm
Bed size: L168 x H105 x D175 cm
Height under bed: 69 cm

Can be converted into: mid sleeper bed & canopy bed with the purchase of additional modules.

Specifications 90x200

Mattress size: 90x200 cm
Bed size: L208 x H105 x D195 cm
Height under bed: 69 cm
Can be converted into: House bed, Four Poster Bed, High Sleeper bed, Loft bed & bunk bed with the purchase of additional modules.
Dimensions / Product dimensions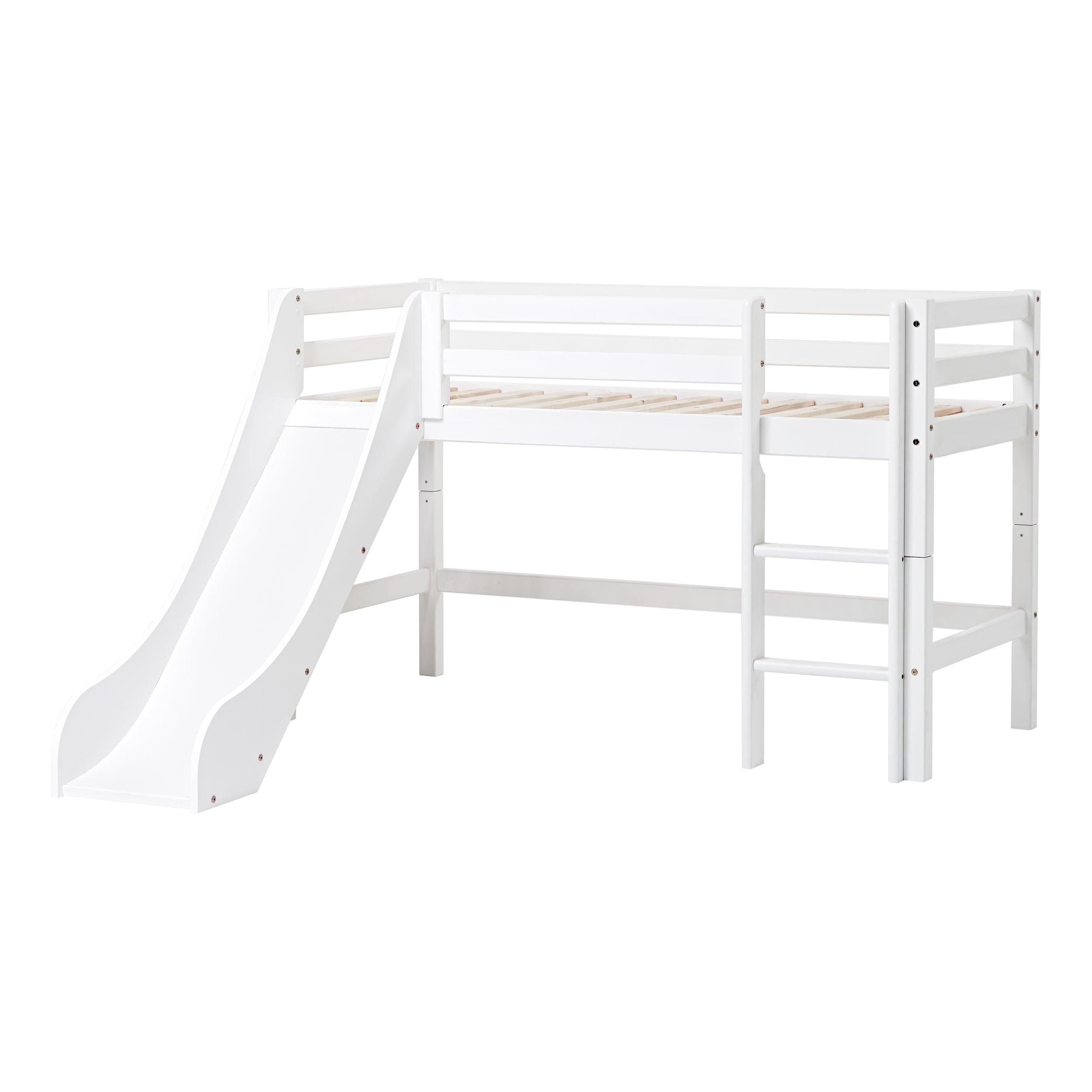 More about the product
Product specifications for Hoppekids ECO Dream Mid Sleeper Bed with Slide
Max. mattress height
9 cm
9 cm
9 cm
Height under bed
69 cm
69 cm
69 cm
Bed posts
52x52 mm
52x52 mm
52x52 mm
Height
1050 mm
1050 mm
1050 mm
Width
1750 mm
1750 mm
1950 mm
Length
1680 mm
1980 mm
2080 mm
Shipping weight
41.05 kg
36,85 kg
48.1 kg
Product weight
35.9 kg
33 kg
42.5 kg
Max. weight
100 kg
100 kg
100 kg
Series
ECO Dream
ECO Dream
ECO Dream
Hoppekids ECO Dream: Great selection of the most popular products
In ECO Dream, you can find both the practical junior bed, the fun mid sleeper bed with and without a slide, the cozy canopy bed, or the smart loft bed with a tabletop and plenty of floor space under the bed.
Most of the models in the ECO Dream series are modular, which means that the bed is built up of a junior bed and a module. If you buy a mid sleeper bed, you can use it as both a junior bed and a mid sleeper bed because the module can be added or removed as needed. Some models also come in a non-divisible and more budget-friendly version.
Swan-labeled children's beds
The beds from the ECO Dream series are Swan-labeled. This is your guarantee that the product complies with applicable EU standards for children's furniture and has been tested accordingly. The Swan label also sets strict requirements for chemicals - benefiting both the environment and your child's health.
The Swan label constantly tightens the requirements for certification, ensuring that we as a company are constantly updated and follow the developments. Read more about the new 2021 requirements for furniture here.
Colored junior beds
In the ECO Dream series, you will also find a selection of colored junior beds and high sleeper beds. The colored beds are part of the My Color series, which are furniture in modern colors that are continuously developed in accordance with current trends.
The colored beds from the ECO Dream series are - like the "regular" white beds - also Swan-labeled. This means that the colorful surfaces are also treated with environmentally friendly water-based lacquer, ensuring that the bed does not release unnecessary substances - neither through inhalation nor through contact with the bed.
The benefits of the ECO Dream series
There are many advantages to an ECO Dream children's bed, the beds have both:
A lightweight design
A semi-modular system - which provides many options for changing the appearance of the bed
The possibility to choose multiple colors
A selection of the most popular accessories
Is cost-friendly
So if you are looking for a children's bed that will last for many years and is also cost-friendly - then an ECO Dream bed is the one you should choose.
Mattress for ECO Dream Beds
At Hoppekids, you can find different mattresses for your junior bed. You can get both Swan-labeled mattresses, which are also hypoallergenic, cold foam mattresses, and regular foam mattresses.
According to safety standards, the mattress for your ECO Dream bed should be a maximum of 9 cm high. At Hoppekids, you will find several types of mattresses that have different properties.
ECO Dream Bed Textiles
Our bed textiles are all perfectly matched to the ECO Dream series. See all the exciting options and make the children's room even cozier.
This product has no reviews yet.